People are more concerned about their fitness than ever before. With the latest inventions in the smart technology industry, it has become a lot easier to track your fitness level. These days in India, smartwatches have become an essential gadget among almost everybody.
So, as a first-time purchaser, how do you know what to look for in a smartwatch? How do you know which is the best smartwatch in India?
To aid you to select the right one for yourself, we've put together the 6 best smart watches in India. Read the post fully and choose the perfect one that fulfills all your fitness needs.
Without further ado, let's get started.
Best smartwatch in India reviews:
Apple Watch Series 5: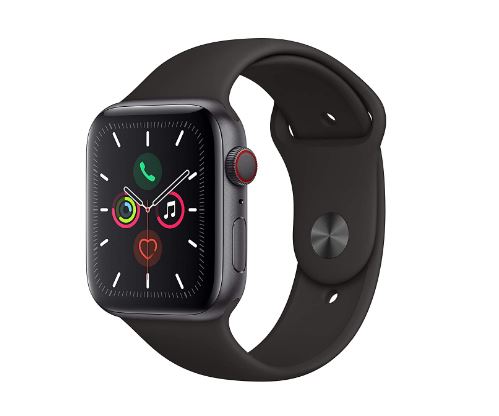 When it comes to manufacturing smart technologies, you expect Apple to nail it. That's what exactly Apple has done with this smartwatch. There are hundreds of smartwatches available in the market, but nothing can come closer to the quality and the manufacturing standards of Apple.
The Apple Watch Series 5 is in our opinion, the best smartwatch that money can buy to conquer your fitness goals. The design and the build quality remain superior in every aspect, while the always-on display is an extra addition from its previous models. So, now you will get a bigger and brighter display and all the amazing tech features you expect from Apple in this single smart wearable.
The speakers and the audio quality is topnotch, and the build is lightweight while still remaining premium. You can even use your old straps with this smartwatch.
Although all the above features are really good, the most noteworthy tech is its ECG feature within the heart rate monitor. It will aid you to get a complete report of your heart, and you can seek help if your heart is in any health danger.
Since its inception into the smartwatch market, Apple has increased its availability of using the ECG feature to more geographical locations including India. There are tons of fitness features equipped with this smartwatch and if you are a fitness geek, you will love it for sure.
The Apple smartwatch series 5 is compatible with the iPhone. It won't work with any android device.
All in all, if you are looking for a real premium quality smartwatch and budget isn't your concern, then you can surely go for this device. It is the best.
Pros:
Sleek design.
Comes with a larger display.
So many fitness-related features.
Waterproof device.
Cons:
Price is on the higher end of the spectrum which is understandable.
Samsung Galaxy Smartwatch: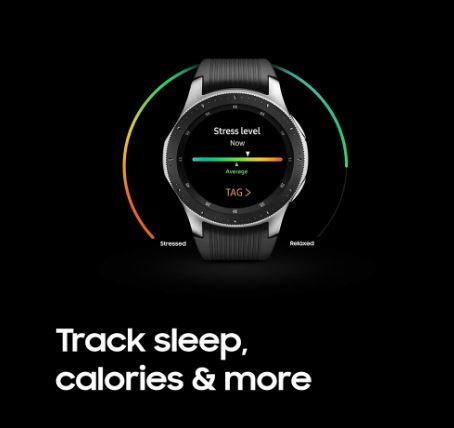 Samsung has been in the smartwatch industry for a very long time and they own the android side of the smart wearable market. The Samsung Galaxy is their latest smartwatch that ticks all the necessary boxes with ease. When we speak about its display, it comes with a 1.33-inch super AMOLED display that has a resolution of 360×360 pixels.
It is protected by corning gorilla glass that is specially made for protecting wearables. It comes with 22mm straps that you can interchange it for whatever style you prefer. The menus are easy to navigate and the overall level of operation is pretty much easy and the user interface is intuitive.
It has all the important hardware features such as the heart rate monitor and a GPS. The GPS feature can be used for calculating your movement when you are jogging and in some devices, the GPS is used to track the location. This smartwatch runs on Tizen OS which is developed by Samsung itself.
When it comes to battery life, it is equipped with a 380mah battery that can run up to two days of continuous use with a single charge. You can also charge it with a wireless charger. With its Google Playstore integration, you will get all the required apps from the Playstore itself.
So with all these amazing features, we can safely say that this is one of the best smartwatches that run on android OS.
Pros:
Equipped with super AMOLED display.
Comes with Google Playstore integration.
Has a wireless charging capability.
Excellent battery life.
Cons:
Fitbit Versa Health and Fitness Smartwatch: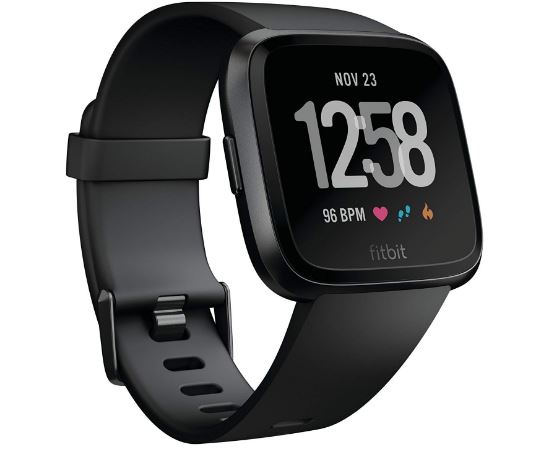 The Fitbit is a really good brand when it comes to manufacturing smartwatches. The Fitbit Versa Health and Fitness Smartwatch is packed with some absolutely good features that you'll love for sure. When it comes to its display, it has a 34mm screen that is decent in quality.
Unlike the other models, it comes with a colorful LCD display that provides decent brightness. It functions through a polymer lithium-ion battery which can last longer than traditional batteries. Although it works perfectly fine with both IOS and android, it functions more efficiently when used with the android OS.
It has all the standard smartwatch features such as a heart rate monitor. This is really helpful to assess the health status of your heart effectively. It supports 15 different exercise types and that makes it an ideal equipment for all the fitness freaks.
Another great thing with this smartwatch is that it is equipped with 3-axis accelerometer and gyroscope. What it means is that the gyroscope indicates the orientation perfectly using the angular momentum, while the 3-axis accelerometer measures linear acceleration accurately in your body using the vibration motor.
The ambient light sensor is helpful in viewing the display in a dark setting. You can connect this device in both Wi-Fi and Bluetooth. It comes with multiple watch faces and there isn't going to be lack of options when it comes to selecting the right style that fits into your taste.
It comes in various color options and the manufacturer provides 2 year of warranty for the entire product.
All in all, if you want a decent quality smartwatch that doesn't break your bank account, then you should go for it ASAP.
Pros:
Water-resistant equipment up to 50 meters.
Sleep tracking feature and the heart rate monitor functions efficiently.
Comfortable to ware and lightweight in nature.
Unisex design.
All the fitness related features are absolutely good.
Cons:
Doesn't have a GPS tracker.
Garmin Forerunner 235 Tracker Smartwatch: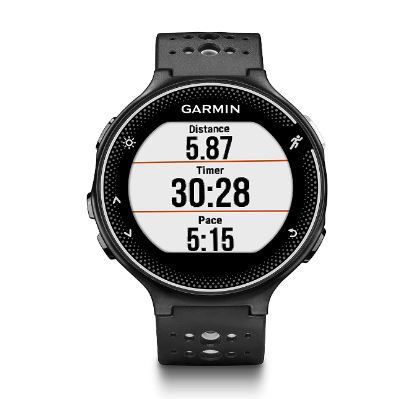 Garmin has been a well respected brand in the smart wearable industry for a long time. The Garmin Forerunner 235 Tracker Smartwatch contains some wonderful features and you will get serious worth for your money. When it comes to display, it has a 1.23 protected display, and it is 44% larger than the previous models.
It doesn't make any difference to the physical size of this smartwatch, but you will have a bright and clear view of everything from menus to the instructions and so on.
When you think about the battery life of this equipment, it gives you much longer lifespan than all of its competitors. To be specific, you can use it in watch mode for 12 weeks and training mode for the same amount of time with a single charge. Remember, you can't use both modes at the same time.
It has the smart notification system and you will be able to see every incoming notification such as emails, calendar reminders, messages, call alerts, and much more. You can track your heart rate easily with its in-built heart rate monitor.
You can also track all your advanced activities relating to your fitness in this smartwatch itself. You will have the option of connecting your android or the IOS smartphone with this device. Last but not least, the user manual is easy to read and understand making it a newbie-friendly smartwatch.
So, if you are a fitness geek, you can go for this device and it will be your best bet.
Pros:
Affordable smartwatch for fitness lovers.
Advanced fitness features available.
Various color options provided.
Comes with in-built smart notification system
Cons:
Low battery capacity in training mode.
Apple Watch Series 4: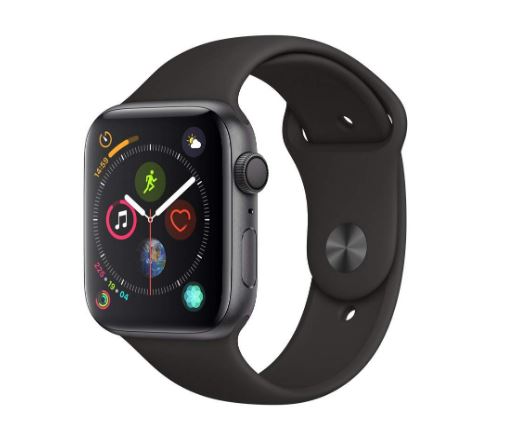 The fifth place of this review list goes to the Apple Watch Series 4. Apple is the best brand when it comes to manufacturing smart technology and this smartwatch outweighs many of its competitors in terms of everything from build quality and design, to all kinds of health related features and fitness tracking system. There are a few major alterations which makes it an attractive product than its previous models.
When we speak of its design, it sports a really quality premium design. Sure, it isn't your traditional round-shaped smartwatch, but it looks attractive which is the unique selling point of this device. The size of the watch case is 10.7mm which is pretty lower than its predecessors. The 40mm and the 44mm models has a brighter and clearly visible display.
The material of the strap is high-quality and it comes with some attractive color combinations to choose from. The strap is also sweat-resistant making it an ideal watch to wear even if you are in an intense workout session.
It comes with supreme health and fitness trackers. In addition to those trackers, it has many pre-built workout plans including yoga and hiking. They are simple to access as well.
This smartwatch is equipped with watchOS 5, and that provides real premium performance. All the traditional features like the heart rate sensor, a reliable Bluetooth connection for music, and accurate fitness trackers are included with this smartwatch.
So, if you are looking for a comprehensive and a real high-quality smartwatch, you don't have to go further!
Pros:
A real premium performance.
Comes with attractive design.
Equipped with high-quality features.
Premium health trackers available.
Cons:
Low battery lifespan.
Higher price tag and that is understandable.
Fossil Men's Gen 4 Stainless Steel Touchscreen Smartwatch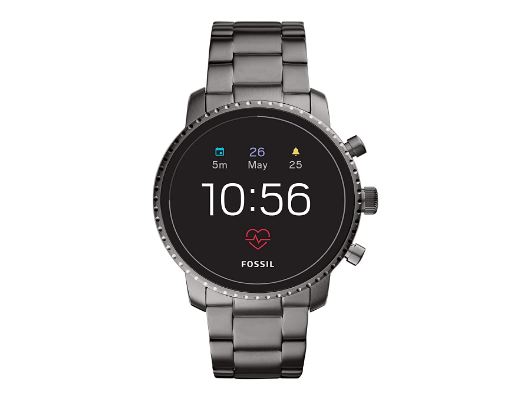 The Fossil Gen 4 Stainless Steel Touch-screen Smartwatch is packed with tech and quality features. We are sure that it isn't a most advanced smartwatch, but when you consider its price, you won't go much wrong with this device. It is equipped with a large and clear display. It comes with an attractive design and comes loaded with quality fitness features.
With its features, it is able to compete with the top brands. When we speak about the design and display, it comes with a high-resolution screen with a larger bezel. It is build with high-quality premium material.
It has a 45mm larger sized case and provides a lot of space for touch screen in the middle of the watch. The display looks bright and clear.
It is easy to operate and you can simply move around with your fingers easily, since it has a larger display. Also, there are a lot of color options to choose from and it will suit to your style preferences for sure. You can find many strap options as well.
The Fossil manage to keep this smartwatch lightweight and comfortable which is a good thing to note, due to its larger nature. It is water resistant and the company calls this as a swimproof device. So, you will be able to use it even during your swimming session.
If you are looking for a smartwatch that has a large display, then it is a really good device to purchase.
Pros:
Has a large display.
Comes with an attractive design.
Build with premium quality material.
Cons:
Some additional features are missing because of the price point.
Also read:
Buyers guide:
Although smartwatches are a new concept in the Indian market, everybody wants to be fit these days. They also want a single device that can track all their fitness-related activities. That's where a smartwatch comes into play.
When you look for the best smartwatch, you should know certain things in order to select the right one that fulfills all your fitness tracking-related needs. In this buyers guide, we will provide you with extensive knowledge on what to look for when you want to purchase a smartwatch for yourself. After reading this guide, you will be able to take a well-informed decision on your next purchase.
What you need to look for when you want to buy a smartwatch for yourself?
The following sections will help you to choose the right smartwatch for yourself.
Look for the right connectivity:
Every smartwatch has different connectivity. Some connect to only android and some will connect to IOS. Only few smartwatches have the capability to connect to both the android as well as IOS. So, you should always go for the right connectivity.
Go for the right battery performance:
The battery performance is a key factor in selecting the right smartwatch for yourself. Hence, you shouldn't choose a smartwatch only based on its features, comfortable ware, and design. So, go for a smartwatch that has a longer lifespan and smart features.
You should also consider wireless charging capacity through smartphones to charge your smartwatch. This will come in handy if you happen to get stuck in an emergency situation.
Easy-to-operate user interface:
A friendly and an easy to operate user interface is a must in any smart device. This is especially important for a smartwatch. So, you should always look for a smartwatch with smooth screen touch and simple gestures.
Also, you can go for a smartwatch with side switches and voice commands as well.
Smart notifications:
There are only two reasons for which you will buy a smartwatch for yourself. One is to track all your fitness related activities. And another one is to access the contents of your smartphone in a compact device. So, a smartwatch should provide these features efficiently without you needing to use separate device for each functionalities.
Thereby, a watch with smart notifications related to your fitness activities and your smartphone's contents such as emails, messages, call alerts, calendar reminders, notifications relating to multiple apps, and voice search are an optimum requirement in a smartwatch.
Look for the right features:
You already know the importance of selecting the right features will have a significant impact on what you do with the device. This is one of the critical factors to influence your decision. So, look for the features that fulfill your needs.
Some features must be present in a smartwatch such as the fitness tracker, sleep tracker, a heart monitor, smart notifications for the basic smartphone related activities like notifications for messages, emails, incoming calls, and calendar reminders.
Choose a smartwatch with safety features:
When it comes to safety features, a smartwatch must have waterproof and dustproof build. It will surely enhance the lifespan of the device. Also, if you are going for a smartwatch with heavy health related features, it should be shockproof and temperature resistant. This will allow you to indulge in workouts and other physical activities without any worries.
You should consider a metal body and strong, durable strap in a smartwatch. Although this is an Important aspect of a smartwatch buying process, many people especially first time purchasers tend to neglect it easily.
Attractive design:
A smartwatch should be attractive in design. Though it performs absolutely well, it has to look attractive. It should suit your style requirements and your wrist size.
That's why, design plays a key role in the USP of a smartwatch.
Consider its price:
A smartwatch doesn't cost like your traditional watch. It is expensive and there is no doubt about that. Though there are some affordable smartwatches, they lack in effective usage and quality.
On the other hand, when you go for quality features and health trackers, you should pay a real premium price. So, choose a smartwatch that fulfills all your fitness related needs and don't blindly go for a feature rich product.
What's the use of a smartwatch?
The use of a smartwatch depends solely on the preferences of a user. Most smartwatches are used only as fitness trackers and other health related monitoring devices. Also, use of a smartwatch depends on the brand and the specifications of the equipment.
Some of its uses include.
Heart rate monitoring,
Sleep tracking,
And fitness related monitoring.
Conclusion:
We've given you all the necessary basics on smartwatches and what to look for when purchasing a smartwatch for yourself.
Read this guide before buying such an expensive device to avoid wasting your hard-earned money.
Want to include your thoughts about this guide? Right them in the comments section below.