A mini food processor is a wonderful way to speed up your meal prep work. Whether you are preparing a meal for two persons, or preparing meals and storing it for the entire week for all your family members, a mini food processor is a great companion to have in your kitchen.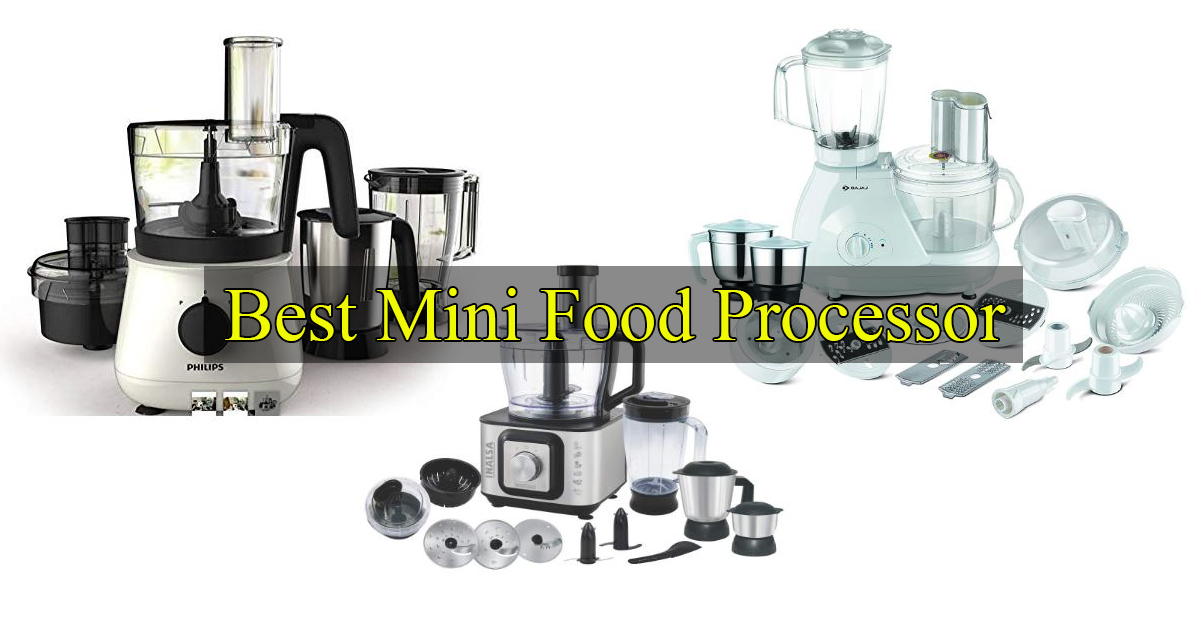 A full size food processor have its place in the kitchen, but as the name suggests, it won't take much space in your cooking area and it's easy to clean as well. You can prepare any kind of food starting from a simple fruit salad, to a much more complicated food items.
Also, you don't have to learn any knife skills as a mini food processor can chop, slice, grind, shred, and even mix ingredients to prepare delicious food. To avail all these benefits, you need to have a best mini food processor in your home.
In this post, we are going to look at the best mini food processors available in the market.
Let's get started!
Best mini food processors
Best versatile mini food processor
Philips food processor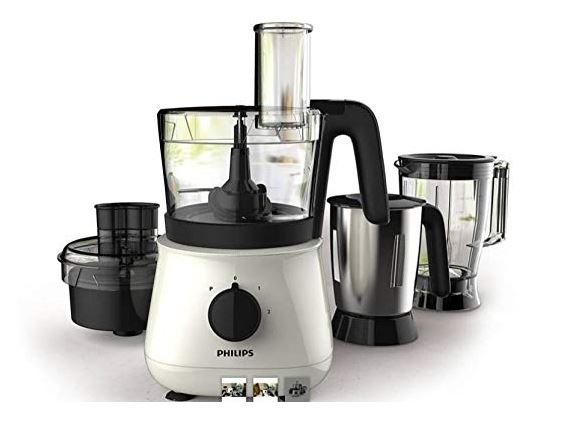 Starting our list is the Philips food processor. If you are a person who takes a lot of time to cook your meals, then you are going to love this food processor for sure. With Philips food processor, you'll be able to complete your cooking tasks in no time at all thanks to it's amazing features.
Apart from its design and the price aspect, you'll find so many quality features that'll keep you hooked on the product. It comes equipped with a 700 watt motor and it'll drive all of its components effectively during any cooking task. Hence, it is very good in carrying out whatever your cooking needs for the day.
Both the motor and the food processor works between 220 to 240volts. It is designed for a 50Hz supply, so make sure that your mains frequency doesn't exceed that level.
The Philips food processor comes with a PowerChop technology which is able to combine the shape of the blade, the cutting angle, and inner bowl to give you superior chopping results. It deals very well with both hard and soft ingredients efficiently and provides you wonderful food without losing the output quality. It'll fit into your kitchen shelf perfectly thanks to its compact design.
When we speak about its performance, it prepares your meals and blends your ingredients pretty quickly without taking much time. Depending on the thickness and toughness of your ingredients, you can choose 2 different speed settings.
The first level speed which is the lower level can beat eggs, whip cream, and create pastries. The second level setting can be used for all other cooking activities.
All in all, if you are looking for a versatile and efficient food processor to use in your kitchen, then your search ends here.
Pros:
Easy to assemble.
Comes equipped with PowerChop technology.
Comes with 700 watt powerful motor.
Very easy to clean.
Cons:
You have to purchase a grinder jar separately.
Best easy to use mini food processor
Bajaj Food Factory FX 11 600-Watt food processor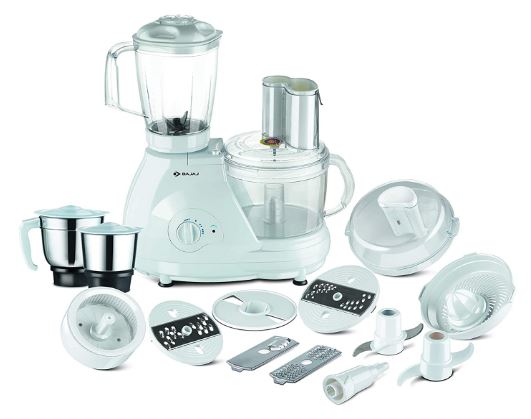 Bajaj kitchen appliances have been playing a massive role in the Indian market for a long time. And the Bajaj Food Factory FX 11 will definitely enhance your cooking experience.
It saves more time in all of your cooking tasks and hence, you can consider it a great kitchen companion to have with you. It comes with wide range of features that'll become handy during your cooking operations.
The Bajaj Food Factory FX 11 is enabled with safety lock mechanism that ensures the safety of its users and those who are around it. You won't be able to start the processor unless you fill and fix the mixing bowl.
As such, it won't cause you any injury even if you accidentally turn on the switch. It comes with three jars for different purposes namely making liquid food, grinding ingredients, and preparing chutney.
It has several blades designed for various activities such as chopping, slicing, kneading, coconut scraping, and shredding. It also has a spatula which you can use to remove blades after the above mentioned activities are finished to avoid unnecessary injuries.
Like all the modern food processors, the Bajaj Food Factory FX 11 can perform various cooking tasks. So, you have three different speed settings to choose from. Also, you have a pulse mode which you can use it as a booster to the motor's power if needed.
So, if you are looking for a high-efficient food processor that can perform all kinds of cooking tasks, then this is the one for you.
Pros:
A multi-purpose food processor.
Equipped with 240volt powerful motor.
You can choose three different speed settings based on the cooking activity.
Comes with three sets of powerful blades.
Cons:
Some users complained that the motor isn't powerful to handle demanding cooking tasks.
Best budget friendly mini food processor/chopper
Ninja Express Chop mini food processor/chopper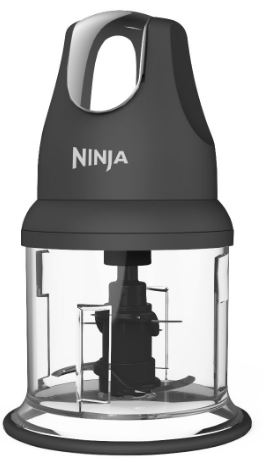 The third place goes to the Ninja Express Chop mini chopper. The reason we included this chopper in our list is that many food processors will have chopping capacity attached to it, but after sometime, the sharpness of the blade and the quality of chopping will be significantly reduced.
When you use a chopper, you can avoid this scenario and  you can preserve the chopping capability of your food processor much longer as well. Having said that, in our experience, if you want to purchase a mini chopper, this is the best value product you can get in terms of chopping and mincing.
As the name suggests, this mini food processor/chopper is good at cubing carrots, mincing garlic, and chopping nuts. It won't bite your pocket when it comes to its price, and you can clean it pretty easily.
It's a really good chopper that you can use for all your chopping needs. We feel comfortable recommending this to anybody who chops a lot in their kitchen simply because it's easy to use and its ability to chop things quickly.
Our team tested this mini chopper in terms of chopping onions, tomatoes, carrots, nuts, and some more harder vegetables. We knew that it's going to do well, because we did tons and tons of research and picked the best chopper available in the market, and it didn't disappoint us one bit!
Also, we looked at the ease in which you are able to clean after completing your work and to our surprise, we found out that it is indeed very easy to clean. When it comes to onion chopping, you'll get consistent cubes and with carrot chopping, you'll get the shape of your desire! You'll get the finest of minced garlic and tomato chopping is as easy as 1 2 3.
Overall, if you are looking for a quality mini food processor/chopper that particularly concentrates on chopping activities, then this is your best friend in the kitchen.
Pros:
Really good in chopping vegetables and mincing garlic.
Easy to clean.
Affordably priced.
Dishwasher safe equipment.
Cons:
Some people complained that it wasn't that good when it comes to tomato chopping.
Check also:
Best high-end mini food processor
Inalsa INOX 1000-Watt food processor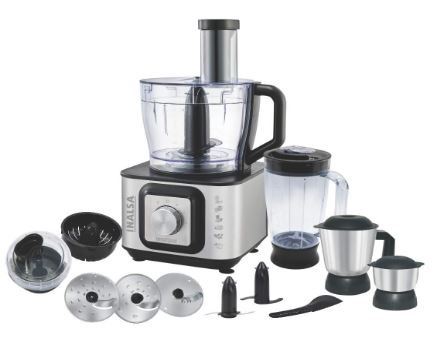 If you are looking for a high-end mini food processor that is also beginner friendly, then the Inalsa INOX food processor is the best product to feature in your kitchen. Its equipped with various accessories that'll enable you to perform several cooking tasks efficiently.
One of the attractive features with this processor is its blades. They can do more than chopping and slicing, and that's part of the reason why more customers prefer this brand.
It is equipped with one of the powerful motors you can find in the market. It has a total power capacity of 1000 watts which means this food processor is able to grind and blend even the hardest of ingredients.
It comes with multi-purpose blades and this allows you to accomplish all kinds of food processor related activity and maintain a quality output. You can choose various speed settings based on the ingredients you want to grind or blend in the speed settings unit.
There are different jars available for grinding, blending, and making chutney. You can use them for their recommended purposes and you'll be amazed at the output of each one.
A powerful mini food processor that you can purchase with confidence!
Pros:
Compact design.
Performs efficiently even in high-demand.
Equipped with a powerful 1000 watt motor.
Comes with a speed settings unit.
Cons:
Best stainless steel eight-cup food processor
Cuisinart Elemental 8-Cup food processor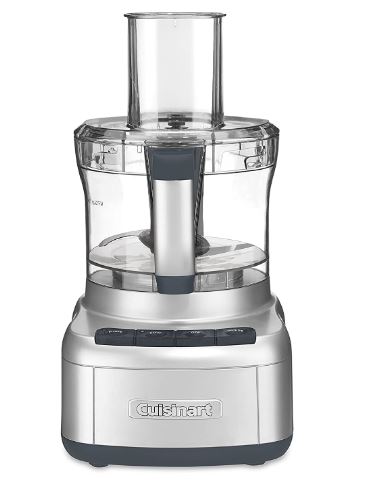 The Cuisinart 8 cup food processor is a well known food processor among its customers. It is specifically designed to handle both big and small cooking tasks.
It uses a 350 watt power motor which is optimum for efficient food preparation. With this motor capacity, its reliable in performing all kinds of cooking tasks.
The mixing bowl has 8 cup capacity and has measurement markings on its sides.
There is enough space to process food without overloading the processor. It also comes with specially integrated feed tubes that make it easy to add ingredients without stopping it.
The discs and the blades are stainless steel designed specifically for users to adjust the shred variation for medium to fine thickness at any volume. This processor also comes with slicing, chopping, dough mixing blades.
All in all, a modern food processor with fantastic, high-quality features!
Pros:
Pretty easy to clean.
Comes equipped with touchpad control system.
Simple to use.
Multi-functional food processor.
Cons:
Conclusion:
We hope that we are able to give you a clear overview of the best mini food processors.
Have any suggestions? Share them in the comments section below!