A ceiling fan is the most common and most used electrical appliance in India. In fact, you'll find more than one ceiling fan in a single room at times.
There is an estimation that on an average, you'll see at least three fans per house all around the country. That makes it a tremendous consumer market ready to purchase one ceiling fan every single day.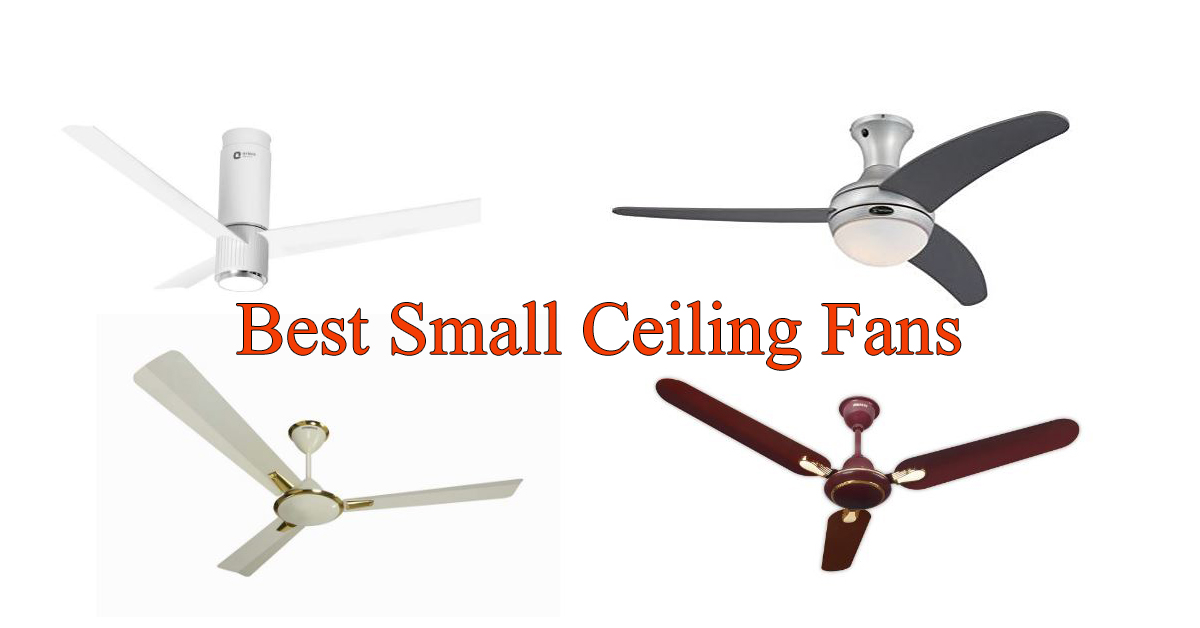 And when you introduce smart features in a ceiling fan, that makes customers even more excited about it.
The climate is such that it's nearly impossible to live without a ceiling fan most of the time in India. And if its equipped with smart features, it'll definitely attract more buyers towards it.
To make your job a lot easier, we've listed 7 best small ceiling fans with smart features in India. Read this post till the end and choose the one that suits your needs.
Let's begin!
Best value for your money
Orient Electric Aeroslim 1200 mm Smart Premium Ceiling Fan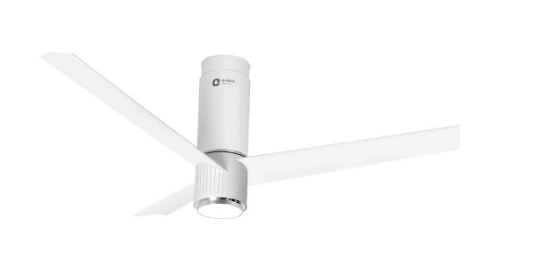 We'll start our list with the Orient Electric Aeroslim 1200 mm Smart Premium Ceiling Fan.
Orient has made a significant mark on the ceiling fan market. After two years of introducing smart ceiling fans, the brand has gained considerable amount of popularity and received warm reception among its customers for the fantastic product.
When you turn on this fan, you'll instantly feel it's cool breeze even in hot weather thanks to its fabulous features. When guests see that you have this fan in your house, it'll surely spark a wow moment in them.
This Orient smart ceiling fan is designed with a powerful 18 pole motor that enables it to run fast and smooth, yet in a noiseless operation mode. Despite its slim looks, it definitely punches above its weight and delivers air up to 240 CMM speed at 310 RPM.
Thanks to the aerodynamic design of the blades added with the hydrophobic, high gloss PU finish, the fan makes very less noise compared to many of its competitors.
From its previous series, Orient has made significant improvements and set industry standards in every aspect of smart ceiling fan manufacturing. This fan includes a ceiling adjustable telescopic mounting which will enable you to adjust the length of the mount depending on the height of your ceiling.
This is simply an awesome feature which you won't find in any of its competitors. This particular feature allows the fan to fit into both  modern and traditional ceilings.
The attractive looking LED lights under the head of the fan makes it even more classy. Its equipped with super efficient inverter motor that helps it to perform super effectively even in fluctuating voltages.
All in all, it is a high efficient fan that you can purchase with absolute confidence for sure.
Pros:
Attractive slim cylindrical design.
Equipped with high efficient inverter motor.
Comes with IOT technology enabled.
Three different speed modes available.
Cons:
Price is slightly on the higher side.
Best energy saving smart ceiling fan
Atomberg Efficio Energy Saving 3 Blade Smart Ceiling Fan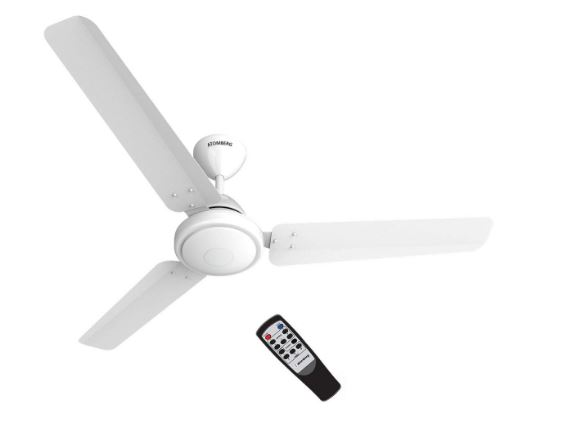 Atomberg is one of the early brands released ceiling fans with smart features in India. When it comes to this fan, it is an energy efficient appliance equipped with brushless direct current motor.
Since its inception into the market in 2012, Atomberg continues to produce high-quality ceiling fans with smart features combining powerful inverter motors. As we've mentioned earlier, it comes equipped with BLDC technology enabled motors, which allows it to consume 65 percent less electricity.
One of the astonishing facts about this ceiling fan is that it only consumes 28 watts of energy. What it means is that you'll be able to save some money in terms of electricity bills.
The BLDC motor converts AC current to DC current using the switch mode power supply that allows it to reduce the wastage of electric energy as excess heat. This ensures your fan only needs lesser electricity.
Also, the usage of BLDC motor means there will be significant noise reduction and enables it to function for a longer lifetime. One of the unique selling points of the Atomberg fan is that you'll be able to control it through remote control.
You can also be able to control speed of the fan, set timer on how long it should run, and the ability to put it in sleep mode.
There are 5 different levels of speed you can enjoy and you have a boost button which will provide you additional thrust for a higher airflow. You can also control this fan in a mobile with infrared sensor.
So, if you are looking for a highly energy efficient fan with smart features, your search ends here.
Pros:
Comes equipped with high-quality BLDC inverter motor.
Has a remote control with speed control, timer, and sleep mode settings.
Only consumes 28 watts of electricity.
Constructed with sturdy material.
Cons:
Best easy to install small ceiling fan
Usha Diplomat 1200 mm 74-Watt Smart Ceiling Fan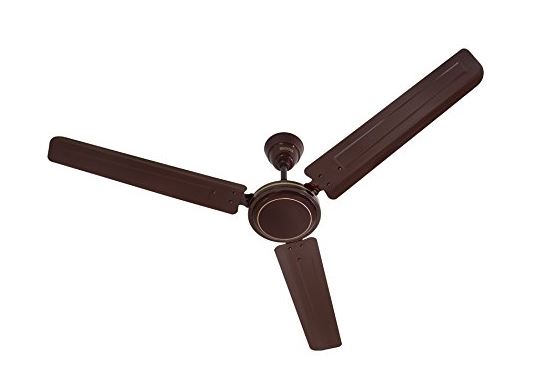 This is a great ceiling fan from Usha that'll surely satisfy you in terms of both quality and features. It is a popular brand in India and they definitely stay true to their brand reputation of making high-quality air circulating fans.
You can easily install it in your home and with the dark glossy finish, it'll look attractive as well. Both RPM and air delivery rate is the best in the industry, and you'll enjoy cooler  breeze even in hot weather condition.
What sets this ceiling fan apart from some of its competitors is that it'll function efficiently even in power fluctuation and low voltage. The high-angle in all three blades means that you'll get full air circulation in all directions.
With all these features, the price tag is quite affordable. This'll be a good news for those who are on a tight budget.
There are some customers complain that the fan is bit noisy, but to be honest, you won't be able to find a quality ceiling fan than this at the price range.
So if you are on a tight budget, yet you are looking for a quality and easy to install ceiling fan for your home, then this is the one for you.
Pros:
Longer lifespan in this price range.
Comes with high-angle blades for wider air circulation.
Performs efficiently at low voltage and power fluctuation.
2 years warranty.
Cons:
Doesn't have different colours to choose from.
Best high-speed small ceiling fan
Crompton Aura 48-inch 74-Watt Decorative High-Speed Ceiling Fan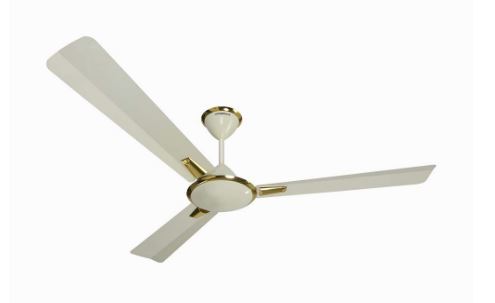 If you are looking for a ceiling fan that'll give best value for your money, then you've chosen the right one for you. It has 5star rating from BEE, which means it'll be an energy efficient ceiling fan.
This ensures that you save some money in terms of electricity bill. Its blades are designed in such a way that you can definitely rely on it to give you powerful air circulation at all temperatures.
It uses 48 inches of three blades and its energy consumption is 53 watts. The operating voltage of this fan is 220 to 240 volts.
It consumes less electricity and gives you wider air circulation even in hot temperature. The total RPM is 320, which is quite good for a three blade fan. Its noiseless and equipped with powerful inverter motor.
The design looks attractive and you can select it from three different colour choices.
Overall, if you are looking for a smooth running fan that gives best value for your money, then you can go for this fan for sure.
Pros:
Noiseless ceiling fan.
Smooth operation.
The entire body remains cool even after 12 hours of continuous operation.
High-quality energy efficient fan.
Cons:
You have to purchase a speed regulator separately.
Best high-end smart ceiling fan
Havells Pacer 1200mm Smart Ceiling Fan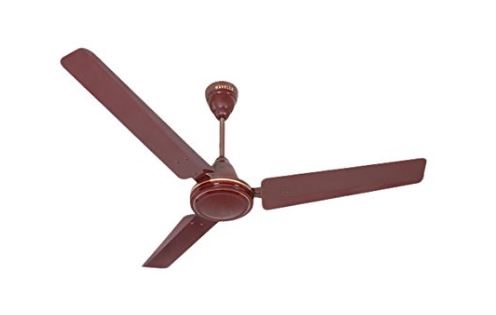 This is a high-speed ceiling fan that is designed elegantly. It fits perfectly into all kinds of ceiling.
It uses three blades and runs at an output of 400 RPM, which is significantly higher than all of its competitors. With this fabulous speed, it has the ability to circulate air at an incredible range.
It delivers air in 235 CMM which is ideal for large sized rooms. Like all quality ceiling fans in this list, it won't reduce its performance even during low voltage and power fluctuation faces.
It comes equipped with a powerful inverter motor which consumes less than 75 watts. What it means is that you'll be able to save certain amount of money when it comes to electricity bills.
So if you are looking for a high-quality ceiling fan that comes with classy features and a strong brand reputation, then you can confidently purchase this ceiling fan.
Pros:
Consumes less electricity than traditional ceiling fans.
Comes equipped with powerful inverter motor.
Noiseless operation.
Constructed with sturdy material.
Cons:
Check also:
Best stylish small ceiling fan
Luminous Dhoom 1200mm 70W High-Speed Ceiling Fan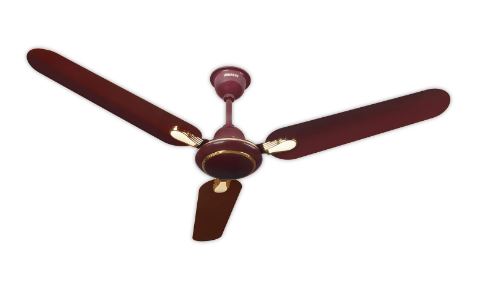 Luminous fans are generally designed in an uncluttered way and this ceiling fan is of no major difference. It is a super stylish ceiling fan that'll look elegant when you fit it in your ceiling.
Ceiling fans from Luminous always have sober colours and this one is also painted in the same way. Although this ceiling fan looks simplistic in its appearance, when it comes to performance, it is one of the best for sure.
This ceiling fan is attached with three blades of 48 inches which enables it to circulate air at a wide angle throughout the room. The air delivery of 220CMM suggests that it is one of the best for powerful air circulation.
It comes equipped with a high-speed inverter motor that not only powers the fan for smooth operation, but it also helps it to consume less electricity. It has 380 RPM which is ideal for both home and office setup.
The motor features 12 percent more copper for extended motor durability. Also, the extra copper ensures that it dissipates heat much better than other fans in its niche.
Super quality ceiling fan with a longer lifespan and absolute worthy of an investment!
Pros:
Consumes less power than its competitors in this price range.
2 years of manufacturer warranty.
Quality performance with attractive design.
380 RPM, ideal for home and office setup.
Cons:
Some customers complained about increase in noise when operating in high-speeds.
Best noiseless small ceiling fan
Westinghouse Celestia II 3 Blade Hugger Ceiling Fan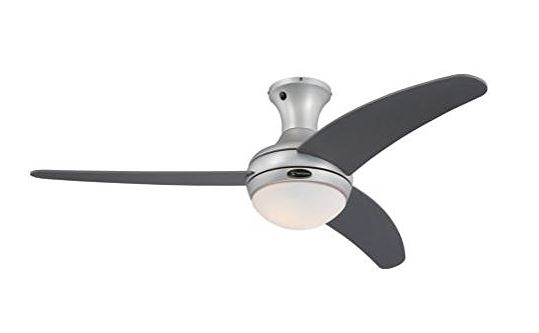 The fantastic thing about the Westinghouse Celestia II is that you can fix it in any kind of ceiling without needing any additional fittings. It comes with a remote control that enables you to adjust both the light on the fan and speed easily.
It functions quietly as it circulates air throughout the room. So if you are looking for a noiseless ceiling fan, you'll thank yourself for taking the decision to purchase this fan.
It comes with forward and reverse functionality which will be of immense help to you during the winter season to adjust fan speed. It is easy to assemble and install, since the ceiling bracket contains slots instead of holes where you'll be able to fix screws easily.
This is an easy to install ceiling fan with quality features.
Pros:
It's very quiet.
Suitable for both winter and summer season.
Easy to install.
Comes with a remote control and equipped with powerful motor.
Cons:
Nothing negative about this product.
Conclusion
We hope that we are able to give you a clear overview of the 7 best small ceiling fans with smart features in India. When you purchase a small ceiling fan with smart features for your home/office, consider your needs, the brand reputation, price of the ceiling fan, and the quality of the manufactured product before making a buying decision.
Also, make sure to read reviews from at least a couple of sites about the product you are about to purchase before actually buying it.
Have any suggestions or thoughts about this guide? Let us know in the comments section below!