If you are looking for a quality air purifier in terms of attractive design and best performance, then the Dyson Pure Cool Link Air Purifier is the right choice for you. There is no doubt that the design of this air purifier looks classy and expensive.
This tower type model excels in performance and it is a serious contender to its competitors. The best thing with this air purifier is that it uses a one-peace filter making your job a lot easier when you need to replace it.
When we speak of its design, you will see a cylindrical base with a mesh. This brings the outer air inside the system. After that, it is getting driven through the loop above in order to purify, and once its purified, it will get pushed out into the room. This particular design isn't only for stylistic ease. The manufacturers of this air purifier employ air multiplier technology with which the fan creates a low-pressured zone. From this zone, the air is pulled in. After the purification process, it gets released into the room. What it means is that you can use it as both air purifier and a fan. This feature is particularly helpful in cities where there is constant rise in temperature.
Although it uses an one-peace filter, inside the cylindrical base, you will have both the glass HEPA filter and activated carbon filter. These two filters will be able to remove all the unwanted particles as well as the harmful chemical and odor from your indoor air.
It does mean one thing and that is you can breathe fresh, cool, and clean indoor air at all times. Depending on your usage, you will have to replace the filter of your air purifier once or twice an year.
The build quality of the air purifier is top notch, and it feels fairly tough. You also love the design of the remote. It's very simple, and lets you control all the important functions pretty easily.
There's a small display on the base of the Pure Cool Link, which turns green when the air quality is good, and is white at other times.
All in all, a super quality air purifier to have in your home!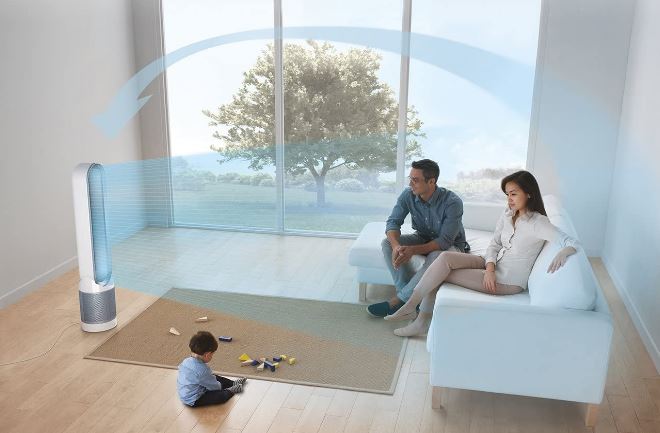 Also Check: