Each and every household, especially in India, is totally dependent upon the maids for the maintenance of the houses. But they hail with so many tantrums that have proved to be unbearable at times. But, if you are going to say a big NO to your maids for working at your place, who else is going to wash your dishes? Well, you can do that with the help of the various dishwashers present in the market. Here we reviewed top 10 best dishwasher in India for Indian Kitchen.
Investing in a dishwasher is the best decision that you'll ever take since it's going to be the perfect aid for your utensils' cleaning. It shall provide you the shining, hygienic, as well as clean dishes in no time, and that too with no hassle.
If you are searching for the best dishwashers in India, we've got your back. Today, we are going to take you through a whole list of the most demanded dishwashers in India.
A dishwasher is not considered to be a common concept in Indian kitchens, but since its advent, its demand is rapidly increasing. More and more households in India are opting for these gadgets so that they get a helping hand in swiping away the mess from their kitchens.
If you are buying the best dishwasher in India, then you need to compare dishwashers in India. With such a comparison, you are going to opt for the finest product in the Dishwashers category. It is going to give you a convenient, healthy as well as hygienic lifestyle. It is undoubtedly a hugely favored add-on to your kitchen, and also, it would save your electricity bills.
Now is the time for you to confidently avoid your maids and get the cleaned dishes in your kitchen. Have a look at the amazing list of best dishwashers in India that we have come up with. The detailed study is going to help you out a lot in gaining an understanding of which dishwasher you should buy or not.
Top 10 best dishwashers review in India
1. Bosch 12 Place Settings Dishwasher (SMS66GI01I, Silver Inox)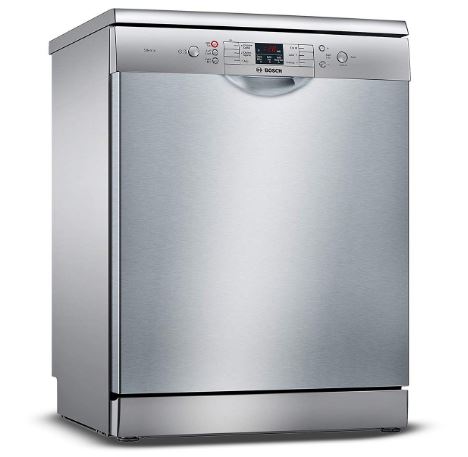 This electronic dishwasher is considered to be one of the top-selling dishwashers in India. It is made out of prolific stainless steel and is wholly electronic and free-standing too. Apart from that, you are also going to witness a glass care system accompanied by the amazing dosage assist basket.
Irrespective of the mess on your utensils, they are going to come up really clean after being washed with this dishwasher. Also, it has got foldable racks, which make it easily portable. It hails with so many benefits that a huge chunk of our India's population has already started relying on it.
Pros:
It promotes effortless cleaning.
There are 12 place settings and six wash programs in this dishwasher.
You may easily set the timing for your utensil's washing.
Your utensils will be washed in a hygienic manner.
It is accompanied by aesthetic design and is easy to use.
Cons:
It won't clean the aluminum utensils eminently.
It has a slightly higher cost.
2. Voltas Beko 8 Place Settings Table Top Dishwasher (DT8S, Silver, Inbuilt Heater)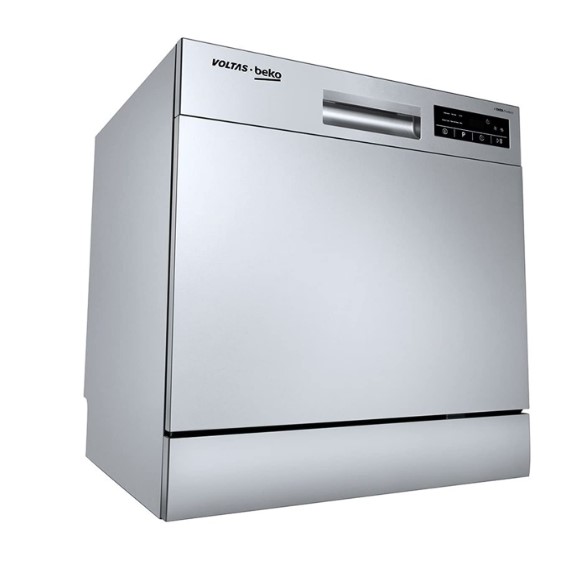 Voltas has always been a leader in this highly competitive marketplace of dishwashers. It's solely because of its various designs and quiet innovative technology. Apart from that, you may also rely on it on the basis of its notable durability, quality as well as technology.
It has got a plethora of features, and these include 8-place capacity where you can clean up to 96 vessels at a same time. Apart from that, you can also make good use of its delay start function with which you may commence your tasks as and when needed.
It has 6 washable programs, they are, Intensive, normal, Eco, glassware, Clean and shine which is suitable for all kinds of indian vessels.
It has 2 years of manufacturing warranty and 5 years of motor warranty. Also, this device is eco-friendly, and it saves water too. It just consume 8L of water to wash your utensils. Its half load feature wouldn't let you keep on waiting for the loading of this dish.
Pros:
It can even work perfectly for the utensils with rough stains.
It can heat up the water up to 70 degrees Celsius, assisting in killing germs.
It saves water since it can use approx — 8 liters of water during a single load.
It has the top-notch quality and is durable.
Cons:
Compact dishwasher, not suitable for larger family members.
See also: 8 Best Washing Machine in India (Front Load & Top load)
3. IFB Neptune VX Fully Electronic Dishwasher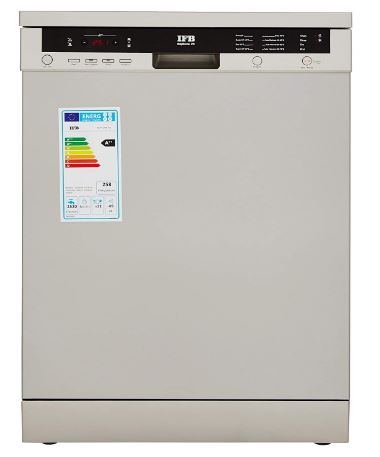 It's a way too smart product and has been designed in a manner that would fit every kind of kitchen interior. It is amongst the finest dishwashers prevalent in India that is accompanied by a hi-tech control panel.
Apart from that, its usage would also facilitate you with steam drying technology. Such an engaging technology would assist you in drying your utensils in a highly perfect manner. You would have the flexibility to place your utensils in its adjustable rack.
Your tall glasses and other large-sized dishes are going to get cleaned with the help of the big space in this dishwasher. Its adjustable basket, along with a foldable rack, would leave you speechless.
Pros:
It has an elegant built.
Its half-load functioning is quite flexible.
It comes with a warranty of two years.
It has adjustable racks.
It is facilitated with 12 settings.
Cons:
You can't do its installation without a technician's help.
It makes noise while functioning.
4. Godrej Eon Dishwasher-8 Place Setting Counter-Top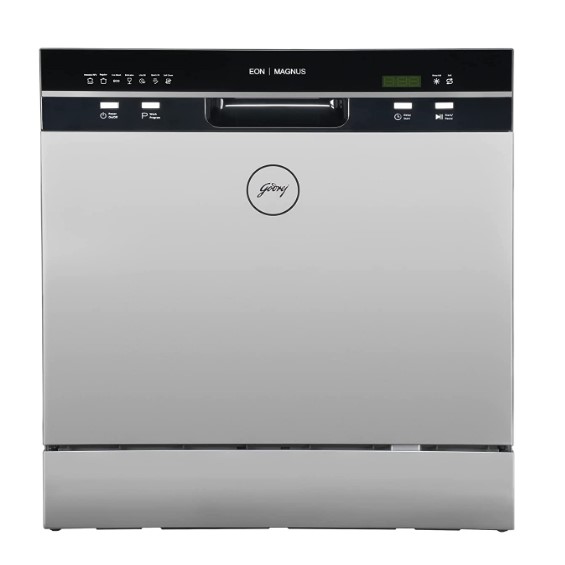 Mentioning a consumer electronics brand that is growing in fame with each passing day, it's none other than the Godrej Eon Dishwasher. Millions of consumers from all across the globe have started relying on it for cleaning their dishes. It is suitable for small family with 1-3 members.
It has 7 washing programs, they are , Regular, Eco wash, Delicates, Lite 90, Quick 35, Self Clean. It has an antibacterial filter, that stops the bacterial growth and it keeps the cabinet clean and hygenic. It has an inbuilt heater, which helps to fights with bacteria and fungus.
Apart from that, it's quite notable that this commendable dishwasher is affordable and, thus, under your budget. Also, irrespective of its price, you would never witness any kinds of shortcomings in its quality and functioning.
It has a 8-place setting and would surely meet your dishwashing needs in the most proficient manner. Its classy design would just leave you speechless, and you would definitely want to buy it.
Pros:
It has a self cleaning program.
It has a digital display.
It has got the seven notable pre-set cleaning programs.
Its silver finish, along with the contemporary design, shall attract you.
Cons:
It is suitable for small family members.
5. Siemens Free Standing 12 Place Settings Dishwasher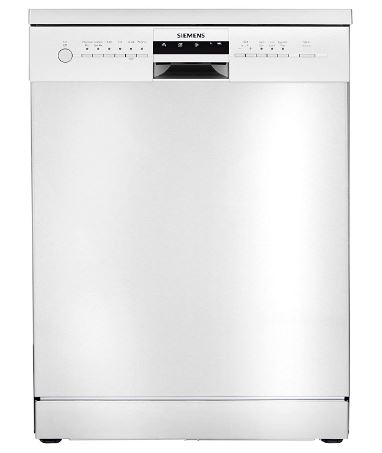 If you are looking for a dishwasher providing you the best fusion of speed, thoroughness, and efficiency, you may opt for the Siemens Free Standing 12 Place Settings Dishwasher. There are a good number of exceptional features hailing with this dishwasher. They include the aqua sensor, 12-place settings as well as a load sensor.
This product comes equipped with the 3 wash options along with 6 washing programs. Apart from that, its hot water ensures that each and every utensil is perfectly sanitized, which would help in removing the notable germs.
Also, it is facilitated with the notable and top-notch feature of Vairo speed that would lead to a decrease in the washing time. You won't even experience any kind of compromise on the wash cycle.
Pros:
It has a top-notch feature of automatic detergent detection.
It contains a load sensor and aqua features.
It is facilitated by highly innovative technology.
It is known to save almost half of the washing time.
It has got 12 place settings.
Cons:
It is known to produce 52dB of noise.
It has got no prevalent child-lock feature.
6. LG Free-Standing 14 Place Settings Dishwasher (D1452CF)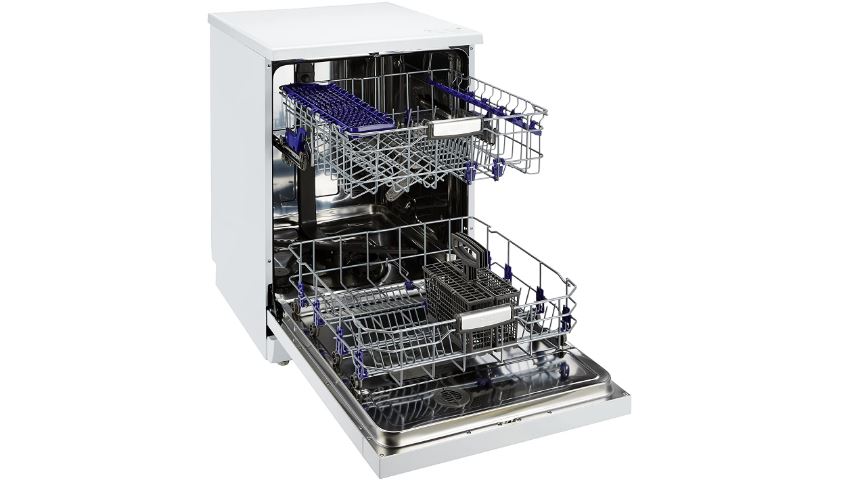 LG is a reputed brand and is known to be the foremost manufacturer of a good number of electrical devices. This reputable brand is also quite renowned for being a producer of the dishwashers.
It is a notable 14 Place Settings Dishwasher that is undoubtedly amongst the best dishwashers in India. Its amazing features have been the major reasons responsible for its being counted amongst the top dishwashers in India.
Its top features include the smart rack system, smart diagnosis, and the lower operation. Also, it would be a perfect aid in loading all your utensils properly. If you need a satisfactory dishwasher at a reasonable cost, you may vouch for the LG Free-Standing 14 Place Settings Dishwasher.
Pros:
It contains a removable rack that would help in loading taller utensils.
It has 14 place settings that are perfect, especially for medium-sized households.
It is equipped with five wash programs which can save a lot of energy.
It functions with the help of TrueSteam technology.
You can adjust the racks according to the utensil's size.
Cons:
It has a bit higher price than the other dishwashers in the market.
7. IFB Neptune WX Free Standing 12 Place Settings Dishwasher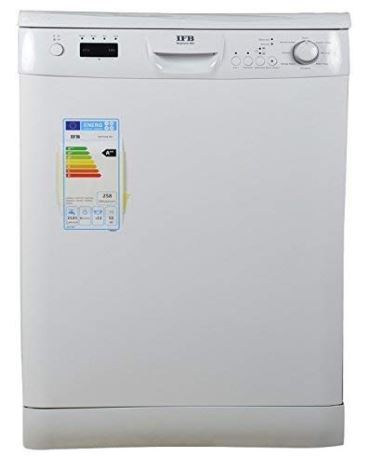 You are going to witness the two most important features of the reliability as well as robustness while using the IFB Neptune WX Free Standing 12 Place Settings Dishwasher. It hails with a state-of-art technology that would always ensure a top-notch technical experience to the users.
This dishwasher is equipped with a quite notable 12 place setting that also has a removable rack. It has the ability to consume approximately 22.7 liters of water. Also, you are going to come across a time indicator on this dishwasher. You would get stunned on knowing about the various other quality features, and each one of them is beneficial.
Pros:
It consists of 9 wash programs.
It hails with a notable warranty of 2 years.
It can wash away too quickly and also saves electricity and water.
It has got various features, such as adjustable racks and water softener.
It has the ability to consume 22.7 L of water.
Cons:
It is going to produce a bit of noise while functioning.
8. Faber 12 Place settings Dishwasher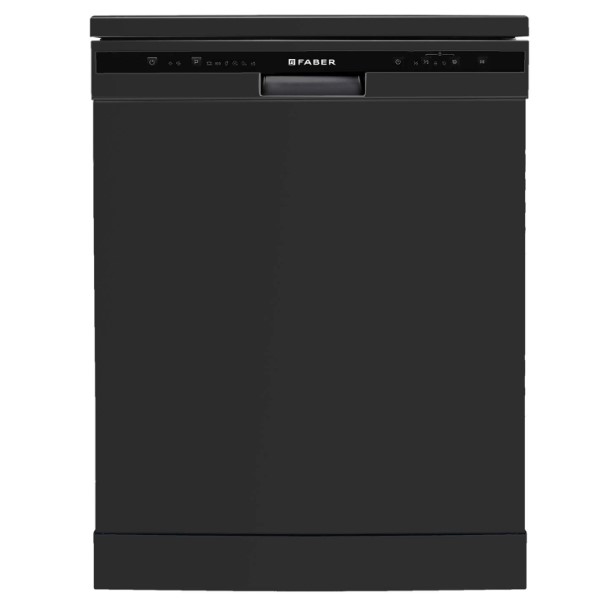 Brought to you by Faber, this dishwasher is especially made for Indian kitchen to remove stains in the vessels. Also, it's freestanding and is facilitated with the finest furnishing of the filtration systems.
These filtration systems also hail with an efficient energy-saving feature. Just in case you are someone who is looking out for some dishwasher that has lower energy consumption, nothing's best than Faber Dishwasher. It will be suitable for medium size family consists of 6 members.
There are six dishwashing functions comprised of this gadget, and each one of them works in an exemplary manner. They are, intensive, self-clean, eco, 90 minimum, glass, rapid. It consumes water up to 10-17L depends on the mode that you have used. Other features include easy push control, water softener as well as the adjustable upper rack.
Pros:
It has the ability to save water.
It contains a delay start function.
It also works in half load.
It consumes lower energy.
It has an A++ Energy Efficiency.
Cons:
It performs well for normal stains. But, it does not remove the deep stains.
9. Elica WQP12-7605V WH Dishwasher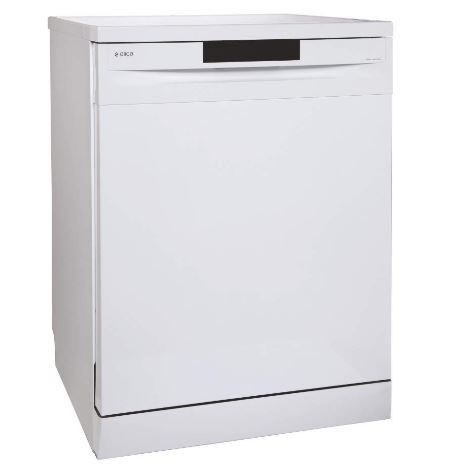 Elica is known to be the most recognized name in Italy. However, it has been gaining major popularity in India as well since the time it has joined hands with Whirlpool. There are a good number of Indianized features prevalent in the Elica Dishwasher.
Each one of these features is going to prove as the perfect reason for such perfection that lies in this gadget. It can even wash out the utensils with the toughest stains. Apart from that, you would also be able to load the different sized vessels in this dishwasher with its 12 place settings. Also, since it's a free-standing machine, you are going to save much cost on installation.
Pros:
It is an efficient dishwasher.
It is user-friendly and suits every Indian home.
It has the capacity to carry 12 cutleries of different sizes.
It has 5 wash systems.
It is a portable and decent product.
Cons:
10. AmazonBasics 14 Place Setting Dishwasher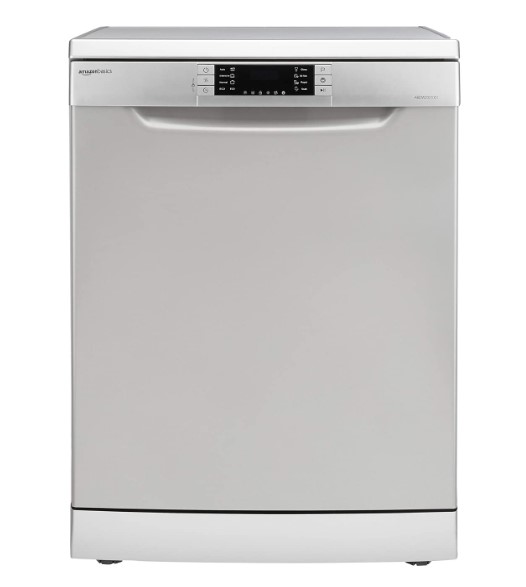 The heavily soiled utensils can easily be cleaned with no hassle if you have the AmazonBasics 12 Place Setting Dishwasher by your side. Firstly, it commences with the washing of the utensils with 8 washable programs, they are, Intensive, normal, eco, glass, 90 minute, rapid, soak, and auto.
It does the rinsing of the utensils through the three different procedures. The whole procedure eminently removes the detergent as well as the dirt from utensils, ensuring a good wash. It consumes water up to 11L per cycle and it has low noise level. And the product is suitable for medium size family(6-8 members). While using it, you should stay assured that your utensils are being washed and cleaned under a single cycle.
Pros:
It contains a facility of a removable rack.
Eco-friendly dishwasher
Low energy consumption
It has 14 place settings.
Cons:
It would demand a proper demo along with an explanation for the beginners.
Read also:
BUYING GUIDE
Buying the best dishwasher in India is not at all an easy task. With so many options to choose from, you are going to get really confused about which one to buy. Thus, for swiping away the hassle, you need to follow the buying guide proficiently. With it, you will be able to choose the perfect dishwasher and that too, with no shortcomings. Get to know more about the buying guide for the dishwasher below:
Cleaning ability:
The most important aspect while buying a dishwasher is none other than knowing about its cleaning ability. There are many dishwashers that might skip the pre-rinsing step of dishwashers cleaning. It's because there are greater chances for the utensils to get even dirtier. On seeing such a scenario, the dishwashers come up with the sensors which are going to notify about the amount of water needed for dishwashing.
Ease to use:
This aspect is way too obvious since you would certainly have to look out for the ease to use in whatever dishwasher you intend to buy. It should have the ability to lower down your working stress at home. Thus, you must ensure that it is convenient to use and user-friendly. There are various dishwashers that have the third rack to fit in the large utensils in it. Ensure that your dishwasher has the same.
Aesthetic appeal:
The physical appearance of your dishwasher also matters a lot. Thus, it's quite important for you to see to it that the dishwasher you buy has got good looks. If your dishwasher is facilitated with that, it's surely going to complete the overall look of your kitchen's interiors. Apart from that, your kitchen is going to look properly organized if you have got that beautiful dishwasher equipped in your kitchen.
Notable controls:
Your dishwasher should have the most necessary and in-built touch controls along with the LED display. With these, they are going to notify the user about the time left for dishwashing, as well as the time that is taken till now. Such a top-notch technology in your dishwasher is going to prove as the best assistance for giving you a hassle-free experience.
Budget:
Your budget should be preferable for buying the dishwasher. If you are looking for the highly proficient dishwashers online or offline, you would have to see that they are under your budget. There are some chances that the price may go a bit over your budget if you intend to get a dishwasher with more features.
FREQUENTLY ASKED QUESTIONS
Many people have different questions to ask while purchasing a dishwasher from the market. If you are looking forward to knowing more about these frequently asked questions, have a look at them below:
What things can a dishwasher wash?
There are a good number of dishwashers prevalent in the market. Each one of them comes with the information about whether they can be dish-washed or not. Thus, before actually placing them in the dishwasher, you need to ensure that its safe to wash them in a dishwasher. It stands quite important for the user to keep a look at the information provided by the manufacturer.
What kind of detergent should be used while washing the utensils in a dishwasher?
On mentioning the kind of detergent that should be used for washing utensils, a powdered detergent would be preferable. It is because they are known to be highly efficient as compared to the liquid and gels. Also, they don't get mixed up with the water, and the detergent is also not misused.
There are some cases when the cups come out flimsy, what's the reason?
If you want to avoid such spotting on the utensils, you should try out the heated drying cycle. The excessive cloudiness is known to be caused due to the prevalence of the excess detergent while washing the utensils. Thus, you may also try out reducing the detergent's quantity while washing.
Is there a need for me to pre-rinse all the utensils before I actually place them in the dishwasher?
No, pre-rinsing your utensils before keeping them in a dishwasher is not at all a mandatory activity. It's because these dishwashers already have the capability to clean all the dirt on your dishes. Just in case your utensils have got the hard dirt on them, you can just soak them in the soapy water.
FINAL VERDICT
There are various types of dishwashers, and they hail with top-notch technology. Thus, choosing the right one out of them becomes tough at times. All you need to do is opt for the right dishwasher so that it is able to suit all your needs and preferences with no hassle. These would not only clean or wash your dishes, but also dry them up with not even a single shortcoming. Time for you to choose the best dishwasher and lessen down your burden of household chores.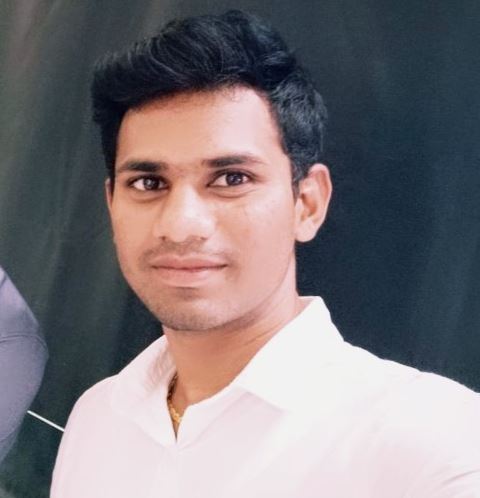 Sivaram is a profesional content writer & editer. He used to spend his time testing and reviewing the products. He has more than 8 years of experience in writing and he graduated from Dr.Mahalingam Engineering College. In his spare time, he educates about nutrition & food to students.