Washing machines are no longer a luxury product. They have become an everyday need in most households in India.
To get the best washing machine that fulfils all your washing needs, perfectly fits into your budget, and is equipped with quality features, you need to have some knowledge about this home appliance.
That's what specifically we are going to provide you in this review of the 9 best washing machines in India. Let's get started.
Quick Look at the Top 3 From our List:
Best Washing machine reviews:
1. LG 9.0 Kg 5 Star Smart Inverter Fully-Automatic Top Loading Washing Machine [editor's choice]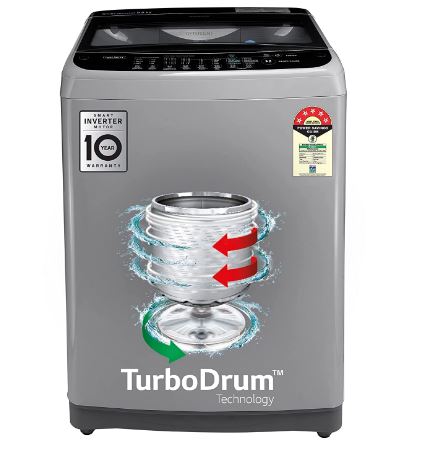 If you are looking for a Fully-Automatic Top Load energy-saving washing machine in a popular brand, then LG 5-star smart inverter is the best choice for you. The advanced Smart inverter technology will maintain energy consumption by avoiding unwanted operations.
The Jet Spray Technology will save time and energy and it saves manual rub and scrub. The high-power water spray will remove the stains and an extra amount of washing liquid. And you will be able to save 70L of water by using this smart machine.
This LG 5-star inverter washing machine has different kinds of special features to optimize laundry work. Its powerful stainless steel Turbo Drum can easily remove stains and dirt by strong rotation either in opposite directions.
It has an Auto-Restart feature which works on power cuts while running. It will start the operation from the same cycle from where it gets terminated. If you are facing any problems with the machine you can resolve them by using the Smart ThinQ app.
The smart closing door technology will automatically close the door by itself if it does not disturb for a particular time. The tub clean technology is there to remove the stains and dirt smell inside the tub.
A child safety lock feature is given to protect your child while running. Another unique feature is punch + 3 technology which sprays the water in the vertical direction and mixes the clothes up and down for a better end result.
Inside the box, there will be a machine unit, 1 drain hose, 1 QRG unit, 1 OT hose, 1 unit of detergent powder, and Anti rat cover.
Pros:
9 Kg capacity suitable for a larger family.
It has 2 years of manufacturing warranty and 10 years of motor warranty.
The machine featured with 3-18 hr delay start.
Cons:
A little bit noisy.
2. Panasonic 6 Kg 5 Star Fully Automatic Top Load Washing Machine [Best Overall]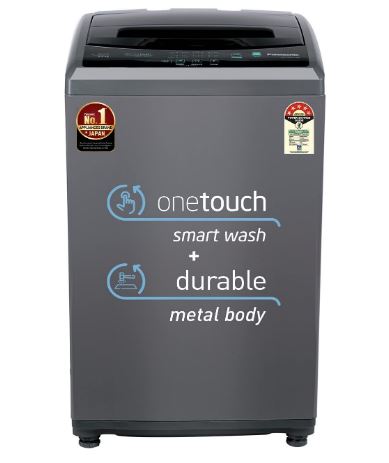 Panasonic is one of the trusted brands that do not compromise on quality anymore. This 6 kg top-load washing machine is suitable for small families. There were 8 customizable washing programs to remove stains and dirt.
Fuzzy control technology will automatically take the water according to a load of clothes. The Aqua Beat technology which is 3-beat washing technology gives a perfect end result by removing tough stains and dirt. The magic filter associated with the tub will catch the dust and waste cotton removed from the clothes.
The tub is designed in a cube format which gives better performance and it provides detangled clothes at the end. The drum is made up of stainless steel material which is rustproof and long-lasting forever. The one-touch smart wash technology will provide better results in one touch.
Power off Memory is there to restart the machine from where it gets stopped. Air Dryer will spin out the water from your clothes for air drying purposes. A 5 Star Rating would not fail to give a better performance.
The customizable washing programs will help to remove dirt according to the fabric. They are Normal, Jeans, Bulky/Heavy, Delicate, Quick, Air Dry, Tub clean, and Eco. The outer body is made up of rust-proof material and it is durable for a longer time.
For one who is looking, for a high-performance and efficient machine for a small family, this Panasonic 6 Kg 5 Star Fully Automatic washing machine is highly recommended. Inside the box, there will be a machine unit, 1 inlet water hose, 1 drain pipe, and a user manual.
Pros:
Cost-effective.
It has a 5-star rating.
Easy to use.
Aqua Beat Technology for stain-free results.
2 years of manufacturing warranty and 10 years of motor warranty.
Cons:
For better drying results, they should improve the dryer part.
3. Bosch 7 Kg Fully-Automatic Front-Loading Washing Machine: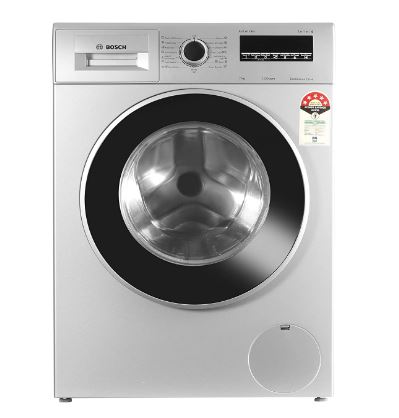 Next up, we will have a closer look at the Bosch 7 Kg Fully-Automatic Front-Loading Washing Machine. This model from Bosch has some really cool features. Also, it is one of the best international brand washing machines that is available in the Indian market.
It supports various wash cycles. Bosh is an excellent companion if you want to quickly finish your laundry work. Its performance is of the highest quality and comes with different and innovative features to make washing clothes an enjoyable experience. The active water technology saves water by automatically adjusting the water levels, using multiple load sensors that sense load weight and fabric type.
The anti-vibration design reduces vibration significantly and provides greater stability to the machine. This is a unique feature that you can only find in bosch. The variodrum feature removes tough stains with ease and handles your clothes gently. The speed-perfect function reduces wash time by up to 65% and saves you a lot of time.
The Allergy Plus program effectively removes dust mites and unwanted allergens from your clothes. This ensures hygiene that is of the highest order and keeps your clothes allergen-free. The noise level is considerably low. This will allow you to use it during the nighttime.
This machine can work at a low input water pressure of 0.3 bars. The reload function lets you add clothes during the wash cycle. Also, this machine has a large drum which will allow your clothes to move around freely. Hence, it is able to deliver real-quality washing results in a quick time.
Features:
In-built unique water filter to fit all kinds of taps.
1200 rpm spinning for lesser drying time.
Various wash functions to take good care of different fabrics.
Energy efficient equipment.
Pros:
Exceptional performance.
Ensures perfect wash.
Excellent customer support.
Cons:
The spare parts are expensive to change in case of any repair.
4. LG 8.0 Kg Inverter Fully-Automatic Front-Loading Washing Machine: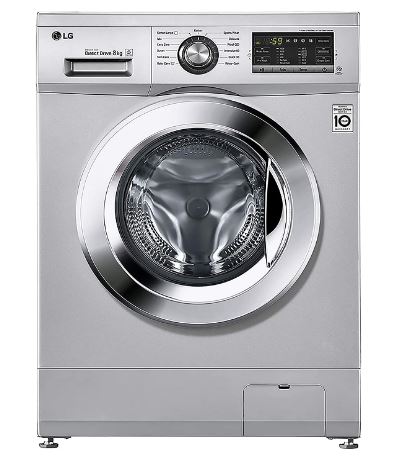 The next product in our review list is the LG 8.0 Kg Inverter Fully-Automatic Front-Loading Washing Machine. They are the pioneers when it comes to manufacturing quality home appliances. This 8kg washing machine is one of the popular products from LG that is fully loaded with amazing features.
What's great about this washing machine is that it removes dust mites, pollen, and pet allergens from your clothes. This equipment comes with 6-motion direct drive technology which will enable various wash programs.
Another wonderful aspect of this machine is that it automatically senses different fabric types and provides several wash cycle options accordingly. The main advantage of the 6-motion direct drive technology is that it moves the wash drum in different directions, hence it efficiently removes stubborn stains without damaging your clothes.
The motor directly connects to the drum. This reduces noise and vibration significantly. The auto-restart function allows it to continue where it left off if it experiences a sudden power outage. Soaking your clothes at 40 degrees C for around 15 minutes helps to get rid of germs and unwanted allergens. It comes with a waterproof touch panel and a rustproof body.
Cleaning the drum is also pretty easy as it can heat water up to 85 degrees F.
Features:
Fully-automatic front-load washing machine.
The spinning speed is 1200rpm.
6-motion direct drive technology with touch panel.
In-built heater for efficient cleaning.
Stainless steel drum.
Pros:
Child lock safety feature available.
Functions as a water and energy saver.
Removes tough stains easily.
Cons:
See also: 10 Best Dishwasher in India (For Indian Kitchen)
5. Bosch 6.5 Kg Fully Automatic Top Loading Washing Machine: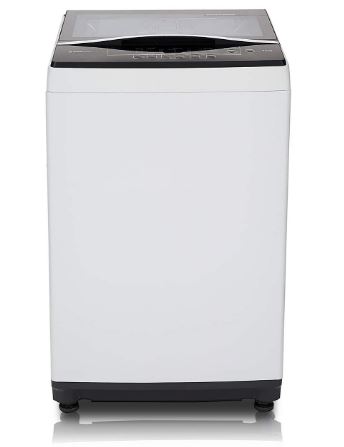 The Bosch 6.5 Kg Fully Automatic Top Loading Washing Machine has a number of valuable functionalities that will reduce your washing time and give you clean clothes. Generally, bosch brings its superior technology in all of its products, and this washing machine is no different. This is a top-loading model that will make washing your clothes an enjoyable experience with its exceptional features.
It is already the number one washing machine brand In Europe and bosch now offers the same technology and quality equipment in India. The PowerWave wash system provides the flow of water from three directions, and it creates strong waves to remove stubborn stains. The dynamic water flow system works in combination with the PowerWave wash system to deliver excellent washing results.
This washing equipment comes with a magic filter that will gather lint and fluff. This will ensure that your clothes remain clean. It features a duel dispenser design which will enable its users to use either the detergent or the washing liquid depending on their needs.
As this machine can work in water pressure as low as 0.3 bars, it is an ideal equipment to use in high-storey buildings. The water pressures are comparatively low, so it is a great feature to have if you live in an apartment. This model from bosch sports an excellent outer appearance with its aesthetic looks. What's cooler is that it is available in six beautiful colours to suit your home's interior design.
This machine is a smart device meaning that it features a one-touch start option. The machine chooses the perfect wash program based on the load. Like all other quality washing machines, this equipment features a child lock safety system that will prevent your little one from messing up with the controls.
Features:
Has a steel drum and a hot water intake facility for excellent cleaning after washing.
680 rpm spinning speed.
Magic filter and PowerWave wash system are available.
Duel dispenser design provided.
Pros:
The drum stops working automatically when you open the lid which will allow you to add/remove clothes.
8 different wash cycles are available.
Excellent washing performance.
Strong glass lid provided.
Cons:
6. Whirlpool 7.2 Kg Semi-Automatic Top-Loading Washing Machine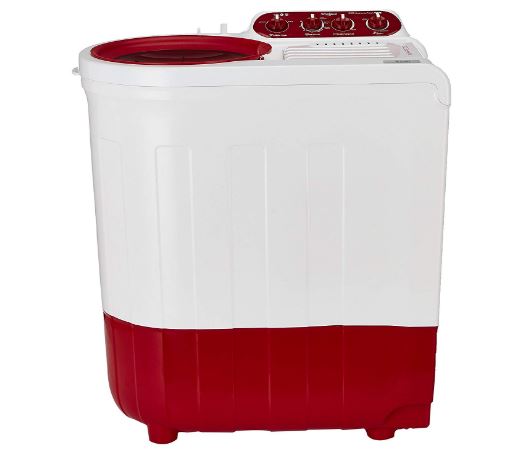 Whirlpool is one of the well-respected brands in India. They manufacture quality products in the home appliance department and this washing machine is of the highest quality. Also, these semi-automatic top-loading machines are a sought-after model in India.
It comes with the ace station feature which will allow you to sort, stack, and carry your clothes in the machine itself. There is no need to use separate containers.
It is a handy feature to have because you can transfer clothes from your wash tub to the drier manually and get perfectly dried clothes. This machine comes with an impeller system that agitates the water to all corners of the drum in order to get an extremely clean wash every time. It doesn't have a separate pulsator, but the impeller provides the ideal motion for cleaning your clothes.
The multi-utility tray helps to sort out and carry the clothes to the wash tub. This tray comes with a unique vent that will enable water to flow back into the tub for efficient washing. The lint filter function is an excellent addition to this model as it collects lint and fluff from the clothes easily.
This ensures that you will always end up with supremely clean clothes. This machine includes an in-built scrubber to scrub the collars and the cuffs neatly and this takes away the tough stains in that area with ease.
If you are looking for a simple and effective washing machine, this is going to be the best choice.
Features:
Lint filter system for gathering lint and fluff from your clothes.
Ace wash station allows you to sort, stack, and carry clothes within the machine.
Multi-utility trey provided.
Doesn't require any installation.
1450rpm spinning speed.
Pros:
The Ace wash station adds so much convenience to its users.
Lint filter provided.
An in-built scrubber that will give you quality wash at all times.
Cons:
Doesn't have the comfort and convenience of a fully automatic washing machine.
7. LG 6.5 Kg Semi-Automatic Top-Loading Washing Machine: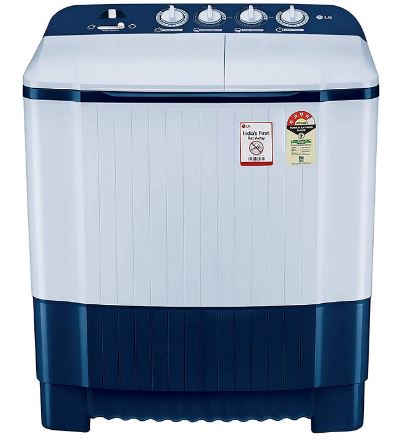 Like all the other semi-automatic models, the LG 6.5 Kg Semi-Automatic Top-Loading Washing Machine comes ready to use. It doesn't need any installation. LG manufactures some powerful and quality semi-automatic washing machines apart from the front-loading and top-loading fully automatic washing equipment.
This product from LG comes equipped with a roller jet pulsator to deliver the best washing experience that you can get out of a semi-automatic model. This pulsator enhances the flow of water to the drum by rotating really quickly. What it means is that there will be a higher amount of friction that directly depends on the rotation of the pulsator.
This machine features three wash programs and you can choose the one based on your requirements. It features a collar scrubber for scrubbing the tough stains from the collar.
So, there is no need to use a brush to do the task. The lint collector is another excellent accessory that helps you to remove fibre that is in your washing machine's pipe. This lint collector collects all the lint from your clothes during a wash cycle.
After that, you can easily remove the attachment and clean the debris collected. Unlike the other models where you have to manually clean the leftover soap from your clothes, this machine is equipped with the spin shower function that washes away them effectively. The air drying feature dries your clothes really well and you don't have to keep your clothes in the sun for a long time. This machine also comes equipped with a 3mm plastic cover with rat-repellent chemicals to safeguard the wiring from these pesky creatures.
Features:
1300 rpm spinning speed.
Lint collector and other important accessories included.
Three wash programs are provided.
Pros:
Excellent performance.
Extremely good spinning speed.
The rat-repellent chemical is a good inclusion.
Air drier dries your clothes really fast.
Cons:
See also: 6 Best Inverter AC in India (1 ton & 1.5-ton air conditioners)
8. IFB 8 kg Fully Automatic Front-Loading washing machine: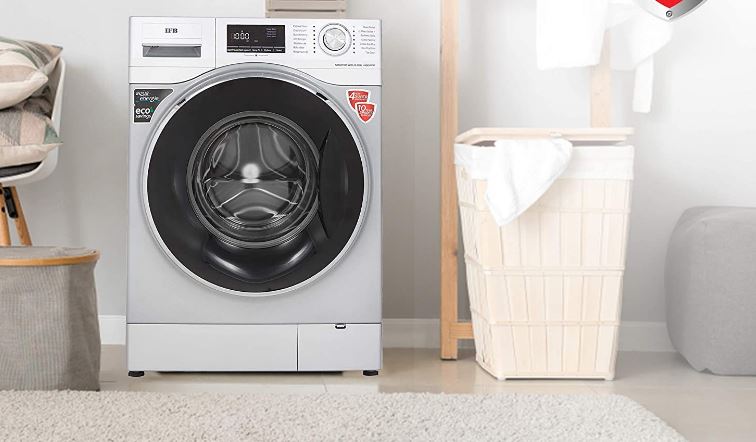 IFB is one of the top reputed brands that manufactures fully-automatic front loading washing machines. And this is a really good model for experiencing quality user interface design. It comes with exceptional options to deliver the best washing results possible.
This front-loading washing machine is equipped with a special air bubble washing system that releases agitated air bubbles to ensure a thorough job of cleaning clothes. The air bubbles penetrate into the layers and remove stubborn stains and dirt. The aqua energy function is an ideal feature for treating hard water. This converts the hard water into a soft crystal so that the detergent can dissolve perfectly with it. The crystals are really small and they will drain away with the water at the end of a wash cycle.
The extraordinary 3d wash system uses nozzles to circulate water all around the wash drum (360 degrees). This ensures a deeper wash. The pause button lets you add clothes amidst a washing cycle.
It has a tub-cleaning function and you can keep the inside of your washing drum neat. An incredibly comfortable and user-friendly LCD panel allows you to program your wash cycles according to your needs. The time delay feature helps to soak your dirty clothes from 30 minutes to 24 hours. This ensures easy dirt removal.
So, it is a powerful washing machine that comes under the premium price range.
Features:
The high spinning speed of 1400 rpm.
Different washing programs for different fabrics.
Energy efficient model.
Pros:
High rpm that dry clothes faster.
You can add fabric softener.
Can wash blankets.
Cons:
A specific size tap is required when installing.
9. Samsung 7 kg Fully Automatic Top Load Washing Machine: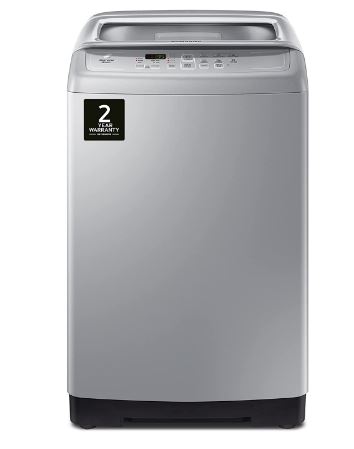 Samsung washing machines always come with great washing options and excellent features. They are also energy-efficient equipment. It works with a digital inverter motor that won't make much noise. Because it works on such a quality motor, it won't make much vibration as well.
Samsung offers a 20 years warranty on the engine which is the most for any manufacturer.
The volt control feature eliminates the use of a stabilizer. This protects the equipment from sudden electric power surges that are a common occurrence in small to medium cities in India.
The diamond drum design ensures tangle-free washing. The inner grooves of the washing drum surface are also diamond-shaped which means it will separate the clothes from tangling. It ensures no damage to the delicate fabric. The smaller water outlets of the washing drum dry out the water immediately after a wash.
This fully automatic top-loaded washing machine offers various wash cycles to accommodate your busy schedules. It produces a noise of 60DB which is acceptable. In India' Samsung washing machines are the most trusted ones. It has 6 number of operation cycles. Apart from its exceptional performance, this device has an exquisite outer appearance with its elegant design that gives you a premium feel.
The ergonomically designed dial Improves your comfort level dramatically. The touch buttons respond quickly, and the easy-to-operate user panel displays all the information you need.
Features:
680 rpm spinning capacity.
Functions with digital inverter motor.
Easy to operate user panel.
A quick wash, Delicate wash & Monsoon wash features available
Child lock feature.
Pros:
The diamond-shaped washing drum prevents damage to clothes.
Energy efficient product.
Cons:
The LED display is difficult to operate on the balcony.
Buyers guide:
Choosing the best washing machine is hard. You have to consider several factors before selecting one that fulfils all of your washing needs.
So, in this guide, we will have a closer look at some of the things you need to know before purchasing a quality washing machine.
1. What are the types of washing machines available?
Generally, there are two major categories on which washing machine manufacturing is based. They are functionality and load mechanism. In other words, the functionality-based washing machine is known to the public as semi-automatic and fully-automatic. And the load mechanism washing machines are known as front load and top load.
Let's have a look at each category to know about them in detail.
2. What's the difference between a semi-automatic and a fully-automatic washing machine?
Actually, what does the word automatic mean? When we use the word automatic in connection with washing machines, we should know certain things. Not only does the word automatic means the machine washing of clothes, but extracting the water from the washing tub after the washing process is over.
The fully automatic machine takes care of all the aspects of washing which includes spinning, extracting, and drying, with the help of a special program.
On the other hand, after the completion of a wash cycle, you have to manually transfer the clothes to the spin tub for drying purposes and extract the water out of the wash tub. Hence, the semi-automatic model has two tubs, one for washing and one tub for drying.
Otherwise, the energy-saving mechanism as well as the operating mechanisms are more or less the same.
3. What's the difference between the front load and the top loading washing machine?
You should have heard these names when you refer to washing machines. The differences are pretty simple. As the name suggests, the front-loading machine loads clothes from the front portion of the machine, whereas, in the top-loading washing machine, you load clothes in the top portion of the machine. Some people prefer front loading and some of them prefer top loading ones.
Usually, the front-loading machines are fully automatic and the top-loading ones are semi-automatic. The front-loading machine uses the minimum amount of water and the top-loading machine uses a lot of water.
This is because you need a lot of water to soak the clothes. The front loading operates with a tumbling action. Therefore, it doesn't use much water. The front-load machines have a comparatively longer washing cycle at a much slower speed than the top-loading ones.
Thereby, the front-loading machines are more energy efficient.
The front-loading machines use hot water washing to clean clothes. As there is less water consumption, the drier uses only a little bit of power to dry clothes.
So, consider your needs. If you are on a tight budget and you want a quick fix to your washing needs, you should definitely go for a top-loading washing machine. If you aren't constrained by budget and you need all the quality features of a washing machine, then you must choose the front-loading model.
4. What are the major technologies used in manufacturing washing machines?
There are two major technologies used in manufacturing washing machines. They are inverter and direct drive technology.
The inverter technology is used in modern-day washing machines. It enables the machine to run at an optimum speed suitable to the load. In a normal course, the motor has a fixed speed and a fixed load capacity. But if you fill a high load, then the motor performs at the highest speed possible.
This type of motor has a special electronic circuit that determines the speed based on the load you have inside the machine. This will in a way save a lot of energy because you are not going to have the same load every day.
The direct drive technology works much like the same. In the conventional motor, you will have moveable parts such as gears and belts. Whenever you use them, there will be a lot of friction. This will surely affect the performance of the motor.
But the direct drive technology removes the use of such removable parts and hence it eliminates friction and saves electricity as well.
Although these motors are heavier than the inverter ones, they can provide greater efficiency with regard to washing results.
Conclusion:
We appreciate you. You care deeply about your purchase. and you don't want to buy products that aren't going to fulfil your needs.
We have provided the most relevant things you need to know when selecting a washing machine. Keep your needs in mind. Choose the one that fulfils all your washing needs.
We have given you the most relevant information on selecting the best washing machine. Once again, keep your needs in mind and choose the right one for your home.
Want to include your thoughts? Share them in the comments section below.

Hari Vignesh is a freelance content writer and works for Trustedshop.in for more than 5 years. He has a vast knowledge of testing and reviewing products.