If you are looking for a microwave oven that is suitable for a large family and comes with quality features, then the IFB 30 liters BRC2 is a perfect option.
It is a versatile convection microwave oven that comes with a motorized rotisserie that fully satisfies your barbeque cravings. This fantastic-looking microwave oven has the ability to keep your cooked food warm for up to 90 minutes.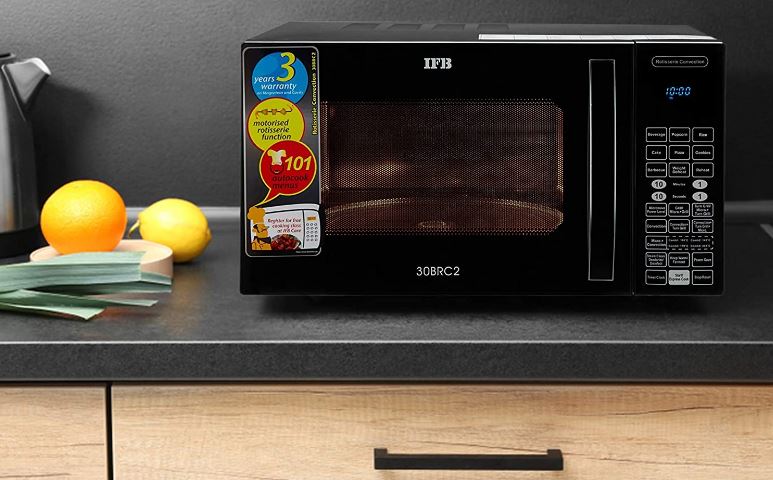 One of the great features of this oven is that it allows you to ferment dough, batter, and other milk products. It comes with one year of manufacturer warranty for the product and three years of warranty on the magnetron and cavity.
So, we can safely say that it is a reliable investment to consider. It comes with 30 liters of capacity.
Hence, a family of 5/6 members can use it for baking, reheating, grilling, defrosting, and cooking various kinds of food items.
It comes with a large turntable of 15MM that enables you to cook large quantities of food easily. The motorized rotisserie helps you to cook poultry. It automatically rotates chicken or any meat on the rod for unified distribution of heat.
With this feature, you'll be able to prepare crispy and delicious grilled dishes with ease. Among all the fantastic features, we love its 101 cooking menus.
It allows you to explore different types of dishes and we are sure that you'll be delighted with the perfect output of one of your favorite dishes. This oven is enabled with multi-stage cooking.
What it means is that it can store three different cooking cycles in its in-built memory. So, you can easily cook in various styles using the pre-programmed settings.
All in all, a fantastic oven with supreme quality features!