You want a quality environment in your home. You want to keep your place neat and tidy. For that, you need to have the best vacuum cleaner in your home.
Vacuum cleaners make house cleaning a lot easier. In this guide, we'll have a closer look at the best vacuum cleaners in India and a detailed buyers guide to equip you with the knowledge you need to purchase the right model for your home.
Let's get started.
Best vacuum cleaners in India review:
Best vacuum cleaner in India for home use:
1. Eureka Forbes Quick Clean DX 1200-Watt Vacuum Cleaner: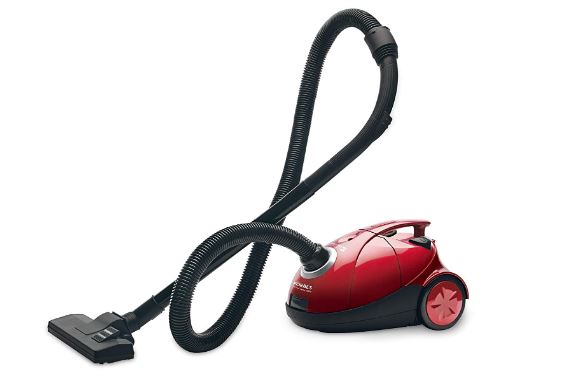 We begin our list with the Eureka Forbes Quick Clean DX 1200-Watt Vacuum Cleaner. It has all the cool features that you can find in a standard vacuum cleaner. This model from Eureka Forbes comes with three dust bags which makes your job a lot easier when it comes to collecting unwanted dust and debris in your home.
It is an automatic, handheld vacuum cleaner equipped with many in-built advanced features. It has a powerful suction which makes this home appliance more efficient. You can carry it wherever you go within the house to clean each and every corner, as it is a portable model.
It feels light in your hands and it is extremely comfortable to use as well. The total power of this vacuum cleaner is 1200watts and the operating voltage is 230volts. And it is a powerful cleaner in its class for sure.
There are so many in-build functionalities such as power suction and cord winder. It comes with lot of added accessories that are helpful in the long run.
The LED indicators makes it easy for you to find out when to remove the dust bags, as it indicates when those three of them are completely filled. There is also a suction controller to control the airflow into the cleaner.
The indicators also helps you in making sure that it isn't fully filled with dust. Operating this vacuum cleaner is pretty easy.
So, if you are looking for an all-in-one solution for every cleaning need in your home, this will be your best choice.
Pros:
1200watts total power.
230v operating voltage.
Lightweight and comfortable to use.
Easy to operate.
Cons:
The dust bag lock isn't that strong.
2. Karcher WD 3 Wet and Dry Vacuum Cleaner: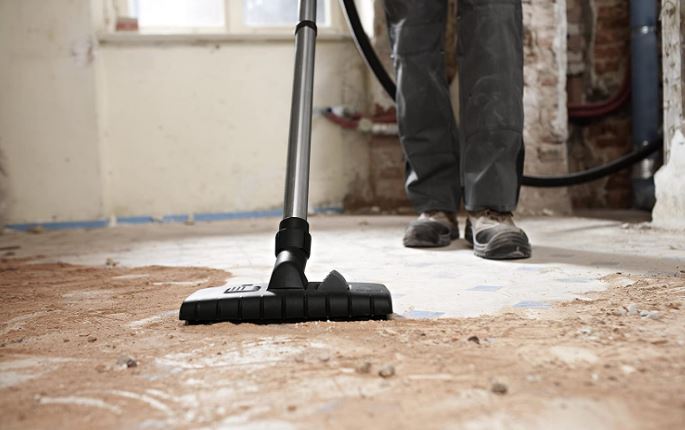 Next in our review list is the Karcher WD 3 Wet and Dry Vacuum Cleaner. It can clear away both wet and dry messes with ease. It can be used for cleaning the hard floor as well as the carpet surface.
The bright yellow color of this vacuum cleaner is a really attractive thing. Because this is a portable equipment, you can store it anywhere else in your home and it won't take much space either. The build quality is seriously good. It is a perfect cleaner for your home usage.
It includes a robust impact resistant container, so the impact from power fluctuation won't affect its inner parts. You can also use this machine as a blower to clean your yards and driveways. The tank capacity of this cleaner is 15liters which is more than enough for a household.
Its cleaning efficiency is commendable for a home cleaner.
When you are in need to purchase a vacuum cleaner that is of the highest quality and performs absolutely well in a hard floored home, look no further than this model from Karcher.
Pros:
Comes with an attractive design.
Supreme build quality.
Can use it as a blower as well.
Can be used for cleaning both wet and dry messes.
Easy to store.
Cons:
No spare dust bag is provided with the product.
Best vacuum cleaner in India for pet hair
3. Black+decker-vh780-vacuum-cleaner: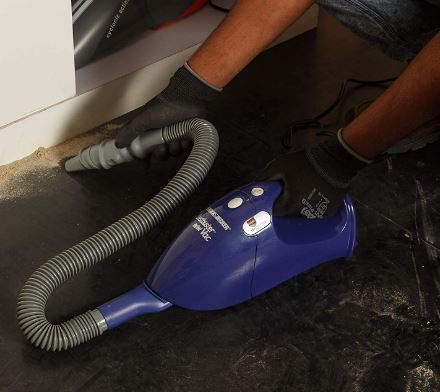 The Black+Decker is a reputed American brand that produces high-quality vacuum cleaners for home use. The vh780 model is exceptional equipment for cleaning small to medium sized homes. If you are looking for a cleaner that has fewer extensions to attach to the machine, then you can definitely go for Black+Decker vh780 model.
This powerful cleaning device comes equipped with a crevice tool, a fabric brush, three blower attachments, a carpet brush, three piece plastic tube, and three suction attachments. Although it looks small, the cleaning ability is so dam excellent.
It is a portable cleaner and you can carry it pretty easily wherever you want to clean. It doesn't have a dust bag. Instead, it comes with a tank to accommodate all the mess in your home. You can empty the tank once you finished cleaning.
It comes with clog indicators and gives you excellent performance. The power of the motor is 780watts and it doesn't sound too big either. But, as we've mentioned earlier, you can use it to clean small to medium sized homes. The running time is also little lesser, meaning that you can't use it for more than 25 minutes.
Yet, for cleaning small homes, this is more than enough.
Pros:
Comes with a 780 watts motor.
Various important attachments are included with the package.
Attractive design.
Can use it as a blower as well.
Cons:
Running time is too low even for small homes according to some users of this device.
4. Panasonic MC-CG303 vacuum cleaner: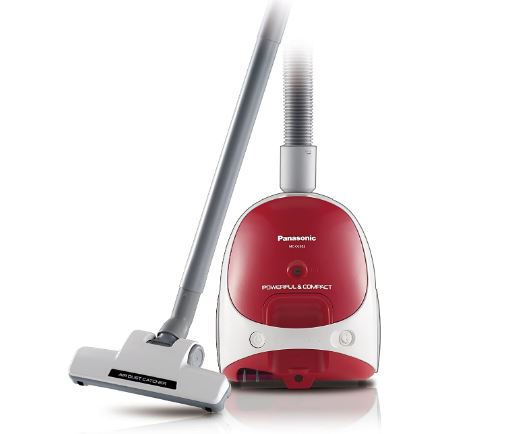 Make the cleaning work a lot easier by using the Panasonic MC-CG303 vacuum cleaner. It comprises an eco-power utility that helps you to save a lot of energy. It has an elastic cord that will aid you to clean all over your house without any trouble.
Comprising of an operative air dust acquirer, this vacuum cleaner will help you to make your floor fresh for your kids to wander on. It provides an Impressive 400watts suction power for sucking all the dirt easily and gives 1400watts power for effective vacuuming.
It has a tank capacity of 1.2liters which is absolutely enough for a home. The suction power is seriously high and nothing can escape from this cleaner. Not even a microscopic particle!
Pros:
1400watts of motor power.
400watts of suction power which is really high.
Comprises of an operative air dust acquirer.
Comes with an eco-power utility for saving energy.
Cons:
This unit feels a bit heavier.
Best vacuum cleaner in India for car
5. Bergmann Stunner Car Vacuum Cleaner: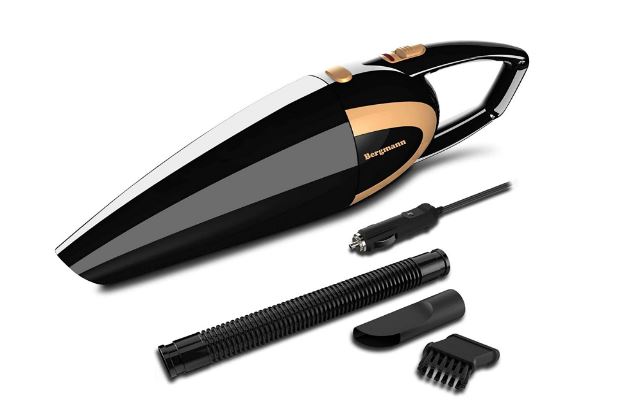 This car vacuum cleaner from Bergmann Stunner is an absolute beauty. It is a combo of affordability and high-performance. The body has a mirror finish and that gives it a sleek look. It is made of sturdy, strong, high-quality plastic. To be precise, the ones that are used to make mobile phones. We highly recommend this as a first choice vacuum cleaner for cars. We do it so because we've tested it in every aspect and we love its performance!
It is powered by a powerful motor that is made of 100% copper. Also, it has a hepa  filter that's made of stainless steel, and it reduces the operating cost of this machine significantly. The suction power of 5 kPa is more than enough for draw out dust, dander, hair, debris, and liquid from the nooks and crannies of your car. It uses a 150watts motor to keep your car from all kinds of unwanted stuff.
The hepa filter doesn't require any replacement. This vacuum comes with three attachments namely, a hosepipe, a nozzle, and a brush. The 5metre power cord provides greater maneuverability and you can even clean a big SUV. It is a quieter car vacuum cleaner than all of its competitors.
Finally, it comes with two years of warranty which will give you peace of mind. If any repair occurs, you can go for a free of cost service or you can request a replacement.
Pros:
Comes with a powerful 150watts copper motor.
Made of sturdy material.
Produces low noise than its competitors.
Equipped with stainless steel hepa filter.
Exceptional suction power.
Cons:
Smaller pipe attachments are not included to clean tiny ac vents.
6. RNG Eko Green RNG-2001 Car Vacuum Cleaner: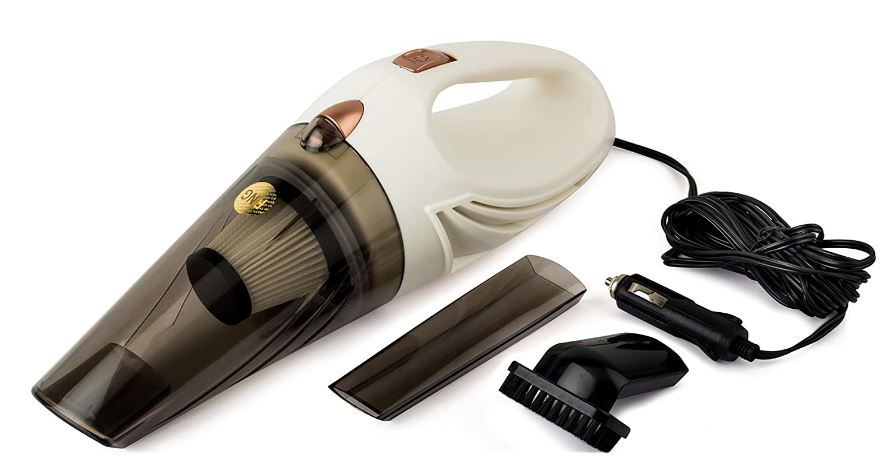 This car vacuum cleaner is manufactured with all the standard safety features. It has a CE certificate and a RoHS certificate which means all the components are completely free from all kinds of unpleasant substances. It has a powerful suction capacity of 4.5 kPa.
It has 100% of copper windings. What it means is that it's pretty safe to use. Like most of the car vacuums, it has a motor power of 150watts. It uses the well known hepa filtration technology to trap dust and other messes in your car.
One important thing to note here is that the hepa filter is washable and you can use it for a long time. There are two attachments that come with the package. A nozzle for cleaning the corners and a brush for all the other areas.
Apart from the attachments, the package includes the main unit, an user manual, a warranty card, and a bag to keep all the things in one place. This vacuum cleaner can be used for picking both the dry and wet messes in your car.
The fan inside the cleaner is made of metal instead of plastic for durable performance and the warranty for this equipment is 1 year from the date of purchase.
Pros:
High-quality performance.
Low noise.
Priced affordably.
Suitable for all kind of cars.
Can use it for cleaning wet and dry messes.
Cons:
Extension pipe isn't included with the package.
Best vacuum cleaner in India under 60000:
7. Dyson V11 Absolute Pro Cord-free Vacuum cleaner: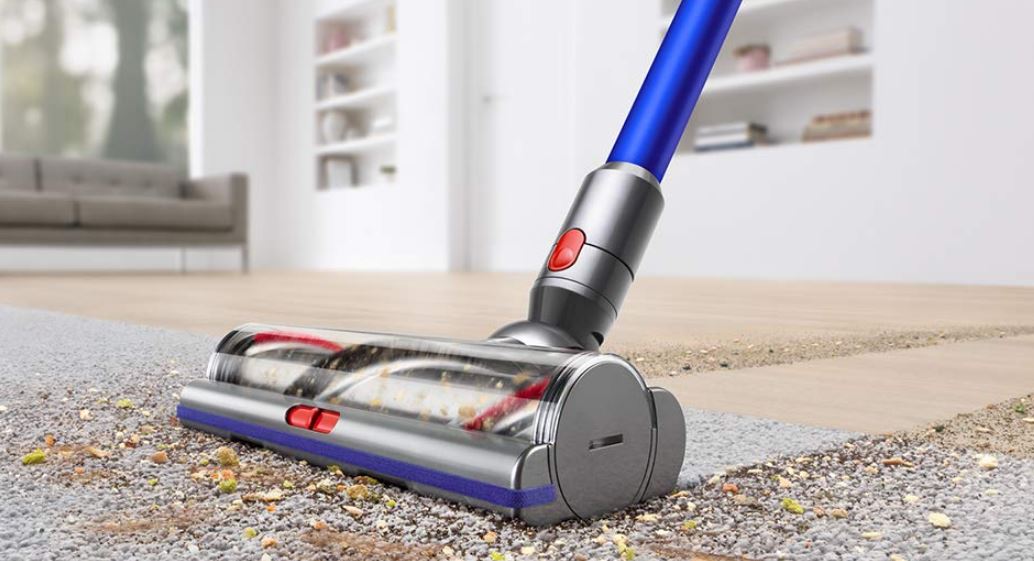 Dyson has revolutionized the way modern-day households use vacuum cleaners. This state-of-the-art model ensures that you don't have to use an external cord to operate this machine. Since it is a cordless equipment, vacuuming becomes an enjoyable experience with this appliance.
The Dyson (DLS) dynamic load sensor automatically adjusts the motor speed and the suction power based on the type of flooring you have in your home. It incorporates three different settings for controlling the suction power such as eco mode, auto mode, and boost mode. Based on these three settings, it senses, adapts itself, and deep cleans your floor with absolute efficiency.
The LCD display provides the necessary information like selected power mode, remaining running time, blockage reports, and filter maintenance reminders. It features a real high-quality Dyson digital motor that's capable of spinning at 125000rpm. The patented cyclone technology helps to get rid of the microscopic particles with ease. The fully sealed filtration system is able to trap 99.7% of dust particles and keep your home neat and clean.
It uses modern lithium-ion batteries to power itself for cleaning purposes and it is easy to operate and store as well.
Pros:
Excellent performance and attractive design.
Comes with a powerful motor.
Has a 125000rpm.
Cordless vacuum cleaner.
Adjusts motor speed and the suction power automatically based on the floor type.
Cons:
8. Philips PowerPro FC9352/01 Compact Bagless Vacuum Cleaner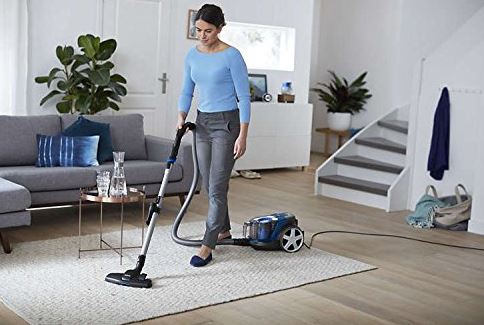 If you want to keep your surroundings clean and neat, then you must have this Philips PowerPro FC9352/01 Compact Bagless Vacuum Cleaner. This vacuum cleaner features a powerful 1900watts motor that sucks even the microscopic particles to ensure clean and fresh air to breathe. It uses a power cyclone technology to separate the dust from the air. You can easily clean a 9meters long area due to the six-meter cord length. It comes with different attachments such as multi-cleaning nozzle that ensures deep cleaning of the floor, and a turbo brush to remove larger dust particles like hair and pollen.
You can also use the soft brush to clean electronic devices and it is included with the package. The presence of active couplings makes this cleaner to adjust to all kinds of cleaning tasks. It comes equipped with an advanced dust container for hygienic emptying after a cleaning session. This helps immensely if you are a person with skin allergy as the dust particles can be the main cause for unbearable itchiness.
It is lightweight equipment and you can transport it anywhere in your home. Also, the large wheels let's you have better motion control at all times.
All in all, it is a perfect vacuum cleaner that has all the standard and advanced features to use in a home setting.
Pros:
High suction power.
Comes with a 1900watts powerful motor.
Auto cord winding is an exceptional thing in this cleaner.
Won't heat quickly.
Cons:
Some attachments has to be purchased separately.
Read also:
Buyers guide:
There is a lot you need to know when it comes to purchasing the best vacuum cleaner for your home. There is too much information and it is overwhelming. So, instead of dumping all that we know about choosing a quality vacuum cleaner into this guide, we'll only focus on the essentials you must know to make the right purchase that fulfills all of your cleaning needs.
1. What are the types of vacuum cleaners available in India?
One of the important thing you need to know when you have decided to purchase a vacuum cleaner is knowing the major types of vacuum cleaners that are available in the Indian market. Without knowing this, it would be difficult to choose a cleaner that suits your home and fulfils all your cleaning needs.
Generally, there are five types of vacuum cleaners currently available in India. Note that we are going to discuss only the vacuum cleaners that are used for domestic cleaning purposes.
That's being said, here are the 5 types of vacuum cleaners in the Indian market.
Canister vacuum cleaners. This is the type of vacuum cleaner that's commonly used in most homes of India. It comes with a cylinder that's integrated with a motor and a storage container. It has a suction nozzle that you can connect with a hosepipe to do your housecleaning.
Handheld vacuum cleaner. It is much lighter than the canister models. It provides greater maneuverability. With these cleaners, you can clean car interiors, corners in your home, and small piles of dust with ease.
Upright vacuum cleaner. This type of vacuum cleaners are only recent addition to the Indian market. It stays upright and you don't have to do a lot of bending. With these vacuum cleaners, you can clean large carpet areas without exerting more effort.
Stick vacuum cleaners. This is a cordless vacuum cleaner. Like the handheld vacuum cleaners, the stick machines also provide greater maneuverability. You can use this equipment to clean beneath the furniture and staircase with serious ease.
Robotic vacuum cleaner. It is the most advanced vacuum cleaner model available in India. It can move on the floor in a house without a human intervention and it is a battery powered equipment. You can clean your floor even in your absence.
There are also convertible and centralized vacuum cleaners that are not available in India.
2. What are the things you need to know when you want to purchase a vacuum cleaner for your home?
Here's what you are going to learn in this section for the things you must look out for when it comes to buying a vacuum cleaner for your home.
Vacuum cleaner containers.
Wet/dry vacuum cleaners.
Filtration system.
Noise level.
Cordless vs corded.
Added accessories.
Vacuum cleaner containers:
Canister models contain a bag inside the container. If you decide to get an upright machine, you will have options to use either a disposable bag or a reusable bin. Obviously, the bag accommodates more dusts than any other containers. But you need to remove it to have a look at how much space is left.
On the other hand, the reusable bins are transparent. This will allow you to judge how much dirt is in the bin and based on that, whether you want to empty it or not.
Wet/dry vacuum cleaners:
A vacuum cleaner that can clean both the dry as well as the wet messes is the best choice for a home in our opinion. With a wet/dry cleaner, you can mop up a bathroom floor and a carpet area with minimum effort. Hence, you will be able to complete two tasks in one go.
Filtration system:
The modern day vacuum cleaners comes equipped with hepa filters. They have the capacity to eliminate 99.99% of dust, dirt, pollen, and other unwanted stuff from your home surroundings. There are also foam, charcoal, cloth, and disk filters available.
Noise level:
There is no connection between the noise level and the cleaning efficiency of a vacuum cleaner. However, check its noise level before purchasing your chosen model to avoid disturbing your neighbors.
Portability:
Probably, this is the most important thing you need to think through in your decision making process. When it comes to portability, cordless models are the best. They provide greater maneuverability.
Also, having a portable vacuum cleaner is handy if you want to carry it easily wherever you need to clean in your home.
Cordless vs corded:
As we've mentioned earlier, this type of cleaners are easy to maneuver and provides greater portability. With cordless models, you can clean wherever you want to do it so with comfort and minimum effort.
When it comes to corded equipments, you can clean your floors with absolute efficiency. Some models even contains air fresheners to keep your home surroundings with pure air.
Cordless models have limited runtime, whereas corded ones doesn't have such restrictions. In the same way, with cordless equipments, you can clean even the corners and hard to reach areas.
But with corded vacuum cleaners, you can only clean a limited amount of area. Now that we've explained the pros and cons of cordless and corded vacuum cleaners, the choice is yours! Keep the cleaning needs of your home in mind when choosing a particular model.
Accessories:
An included accessories list is a must when it comes to buying a vacuum cleaner. It directly affects a major factor. Do you know what it is? Yes, you've guessed it right!
Cost. If a basic attachment is missing, you have to buy it separately which will invariably increase its cost.
So, carefully check for the accessories that comes with a particular model before spending your money.
A standard vacuum cleaner include.
A soft brush and a hard brush.
Additional dust bags, if it is a canister model.
Batteries, if it is a cordless model.
Usage:
Among all the things you've read so far, usage should be the main factor in deciding to buy a particular model. It also gives you an idea of what type of vacuum cleaner you want.
Here's how to determine the usage of a vacuum cleaner.
Cleaning floors and carpets. Canister, upright, and robotic models are an ideal fit.
Sofa set and bed. Handheld and stick vacuum cleaners are your best choice.
Car interiors. Handheld vacuum cleaner is a perfect fit.
Hard to reach areas. Canister and stick vacuum cleaners are mostly preferred.
Electronic devices. Handheld vacuum cleaner is your best bet.
Do you have Asthma patients in your home? Go for a cleaner with hepa filter.
Do you have pets in your home? Use a cleaner with hepa filter.
Conclusion:
We appreciate you. To read a guide of nearly 3500 words means that you care about your purchase.
We hope this guide helps you choose the best vacuum cleaner that can fulfill all the cleaning needs in your home.
Want to add your thoughts? Share them in the comments section below.