Finding the best inverter is hard. There are a lot of things to know before purchasing an inverter for your home.
In this post, we have provided the 9 best inverters in India to make your job a lot easier. Also, we'll provide a detailed review for each product and a buyer's guide that explains all the basic stuff you need to know when buying an inverter.
You should always keep your needs in mind before choosing a particular inverter for yourself.
Having said that, let's get started with the reviews.
Top 9 Best Inverter Reviews in India:
1. V-Guard Smart Pro 1200 UPS Inverter (Editor's choice)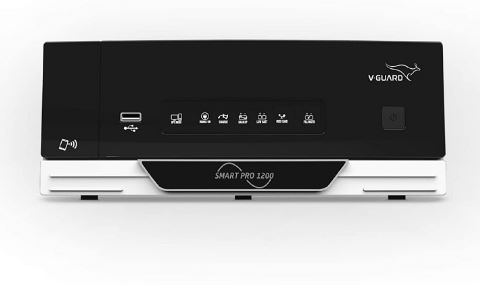 This UPS inverter is trending these days because of its various features. It has some advanced features so that users can find it very useful. Its smart features are worth mentioning. The first feature is you can connect this UPS to your smartphone. Yes, By using V-guard smart app you can connect and access this UPS.
You can check the battery backup, control power & switch through different modes by using this inverter. While we check this product we discover it can withstand low to moderate power usage. You can run a TV, music system, Air purifier, Refridgerator (up to 260L), Mixer grinder (600 W), and more. The Smart Pro 1200 can withstand up to 1000 W load for heady-duty performance if you switch to appliance mode.
The UPS weight is around 9 and ½. Another cool feature of this product it can remind you about the water topping of the battery.
Many of you forget water topping in your battery. So, this reminder helps you to top up the water level and helps to increase the life span of the battery.
Another useful feature of this product is the emergency charging mode. Yes, sometimes due to long powercut the inverter will become shut down. Even that time also you can charge your small devices like smartphones, tablets, and power banks by using the charging point provided by the UPS.
V-Guard Smart Pro has turbocharging mode. This mode helps to charge 30% faster. By using this feature if you notice any power outage you can charge the UPS quickly and run maximum time.
Holiday mode is another useful feature you can use in this Inverter. If you are on vacation you can switch to holiday mode so that UPS can take a little bit of rest and saves energy. When you return, your battery is 100% charged also. This is added advantage.
Pros:
Advanced features.
The smart app helps to monitor everything
Very useful for home appliances.
Cons:
2. Livguard LGS1100PV Pure Sine Wave 900 VA / 12V, Inverter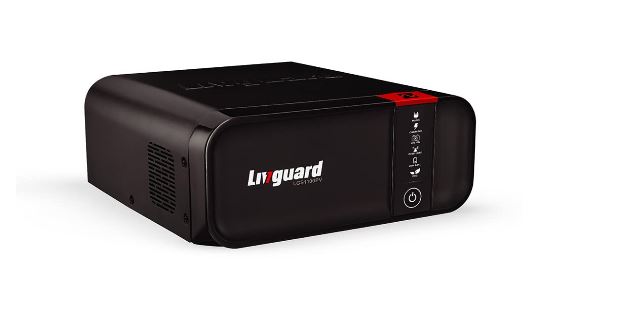 Livguard LG 1100PV is one of the best Inverters in the market today due to its safety features and technology.
Nowadays most modern Inverters come with maximum safety features and functionalities. Like that, Livguard is also doing an excellent job. It can support up to 810 watts load and the maximum charging current is 22A. It has dual-sensor thermal protection. It protects transformers from overheating. Due to this, you can avoid unnecessary accidents due to overheating.
It has an LED display that indicates all the statuses of the inverter like charging mode, overload, low battery, ECO/UPS mode, and On/off mode.
It uses smart AI technology which is a great feature for battery life. What this feature is – it can recognize battery type and capacity and charge accordingly. So, that battery life can improve.
It can support all battery types from 80Ah – 230Ah. And sine wave technology is a great feature of this inverter. Sine wave technology helps to provide sine wave output that is good for electronic items like computers, washing machines, & ovens. It also reduces the humming noise from appliances.
Pros:
Great safety features.
Ideas Inverter for small home & office.
3 years warranty.
Cons:
Cant withstand high load.
3. Luminous Zelio+ 1100 Pure Sinewave UPS inverter: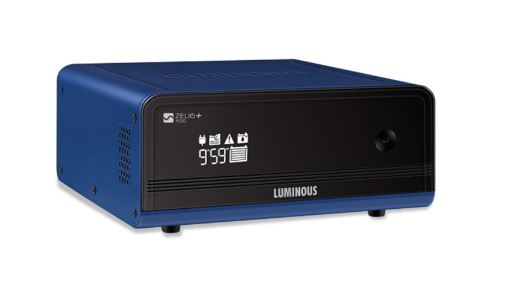 Luminous power technologies is a prestigious company that manufactures the Luminous Zelio+ 1100 Sine Wave UPS inverter. If you are experiencing constant power cuts in your area and you want an inverter that quickly adapts to such a power condition, you've landed on the right product.
You can use it either as a computer USB device or a normal inverter for your home appliances. A 12V battery is a perfect match for this inverter.
Unfortunately, the battery isn't included in the package. You have to purchase it separately. This will invariably increase the total cost of the inverter.
Unlike the other inverter LED displays, this one from Luminous indicates The remaining battery power on the basis of the current total load. The battery takes anywhere between 8 – 10 hours to charge completely. If you want to cut off the current supply due to a faulty connection, you can do it with the bypass switch. It is seriously worth the investment.
Pros:
Comes with a two years warranty.
High-performance equipment.
ECO Mode and UPS modes are available.
Sine wave inverter so, that sensitive devices like computers, LED TV & smart-fans are run smoothly.
Cons:
Luminous service centers may improve in rural areas.
4.
APC 850 VA 700-Watt Sine Wave Home UPS-Inverter 

: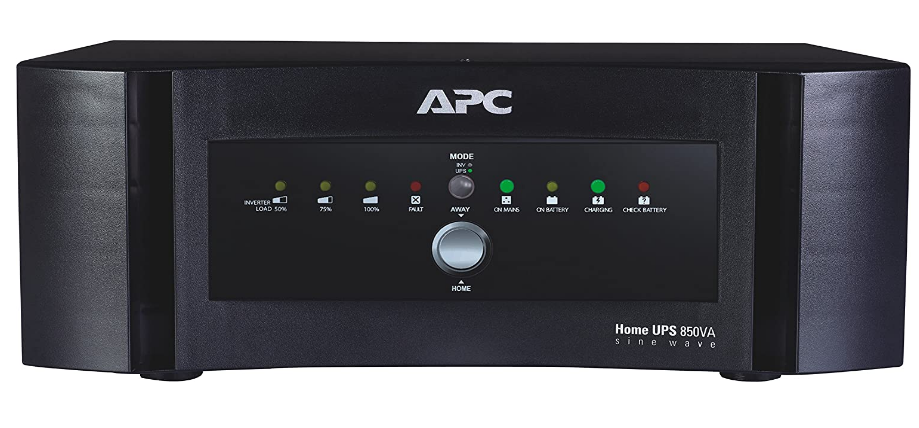 The APC 850 VA 700-Watt Sine Wave Home UPS-Inverter has some cool features. This is the best inverter that is specially designed to tackle the issues arising out of the harsh Indian power conditions. It is one of the lightest and most compact inverters you can find on the market.
To tackle the frequent power fluctuations, it comes equipped with a wide input voltage window. The power output range of this device is 700 watts. Although the power output range of this device is average, you can run gaming consoles, televisions, and home theater systems with ease. This comes with a USB inverter switch and LED indicators, and those are helpful in so many ways.
The inverter can be converted into a UPS system for a computer whenever you need it, with the UPS inverter switch. The inverter battery can be fully charged within 10.5 hours and has a longer battery lifespan.
The power backup time ranges from 6 to 8 hours depending on the number of appliances used and the amount of power consumed. The home/away switch is an excellent addition to this inverter as it protects the device from automatically turning on. It will prevent the battery's lifespan for a considerable amount of time. The batteries are either flat or tubular plates.
Finally, it comes with two years of warranty and if you are looking for a quality inverter that works with all the home appliances, your search ends here.
Pros:
Comes with two years warranty.
USB inverter switch is good for converting the inverter into a computer USB system.
A home/away switch is helpful in prolonging the battery charge.
Works with all the home appliances
Cons:
The battery isn't included in the package. You have to get it separately.
See also: 6 Best Inverter AC in India 
5. Exide 850VA Pure Sinewave Home UPS Inverter: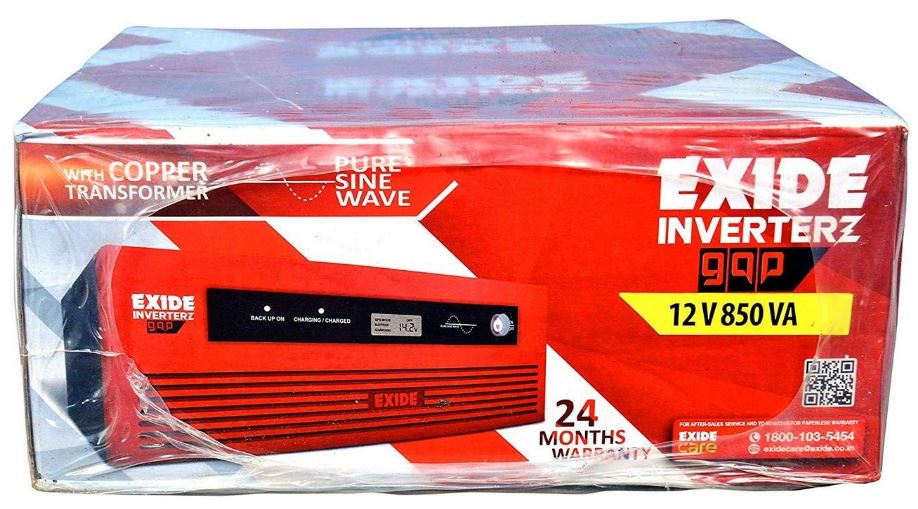 The Exide 850VA Pure Sinewave Home UPS Inverter is a well-known Indian product for its high-quality features. It also manufactures inverter batteries as well.
Compared to its competitors, it is a bit more expensive product. But it is a worthy investment and its supreme features make it a premium inverter for your home. It comes with a high-speed microprocessor and digital processor technology which will make this inverter run more effectively and efficiently.
The LCD display allows you to easily note important parameters such as the load capacity, the input and output voltage, and the available battery power in the inverter. You can expect to switch between the USB and the mains power within 10 milliseconds.
The maximum load capacity with this inverter is 580 watts. The auto-sense intelligence control technology automatically converts the dc current into an ac current whenever required.
If you are looking for a power backup device that supplies power to all of your high-powered appliances efficiently, then this is a great choice.
Pros:
Powerful equipment.
The auto-sense intelligence technology converts dc current to an ac current automatically.
Comes with two years of warranty.
The load capacity is 580 watts.
Cons:
Can't use it for high-power activities such as powering a condo.
6. Luminous NXG 1150 Pure Sinewave Solar Inverter: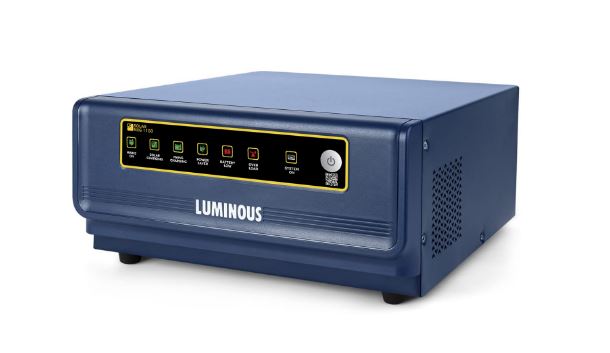 This solar inverter from Luminous comes equipped with great features. There is a lot to like about the Luminous Solar NXG 1150 Hybrid Inverter. It comes with in-built charge controllers and works absolutely fine even in less sunshine. ISOT technology is an excellent feature that helps to reduce the electricity bill. The intelligent Solar Optimization technique helps to use solar energy under both backup and charging modes.
It gets power from solar panels and fulfills your home's electric load. It is made of strong and durable material.
The Luminous Solar NXG 1150 Hybrid Inverter is designed elegantly and ergonomically. According to our usage, the power is long-lasting, and also the inverter is also sturdy.
A powerful solar inverter that comes under a reasonable price range.
Pros:
ISOT features help to save electricity.
Made of durable material.
Intelligent charge sharing.
Comes with an in-built charge controller.
Cons:
Quite noisy when you use it in USB mode.
7. Microtek MSUN 1235 12V Digital Display Solar Inverter: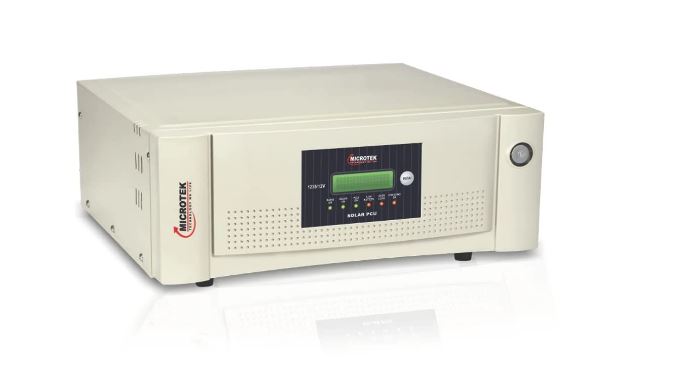 This is one of the great products that's offered by Microtek. It is the only solar inverter that can handle a large electric load. This inverter is made of strong and durable material.
The power is long-lasting. The digital display is useful for noting important metrics such as the remaining battery power and the current load capacity.
It is designed ergonomically and elegantly. Unlike its competitor solar inverter models, this one can be used both in your office as well as in your home.
The digital display also indicates both input and the output voltage. This is helpful in many ways. Although it is a solar-powered inverter, it uses energy efficiently. The in-built charge controller switches between the power mode as well as the charge mode with ease.
If you are looking for a solar inverter that handles some of the high-powered equipment, this is it.
Pros:
Strong and durable.
Provides long-lasting power.
Takes care of the high-powered equipment.
Cons:
Makes a noise while recharging the battery.
8. Microtek iMerlyn Premium Advanced Digital Inverter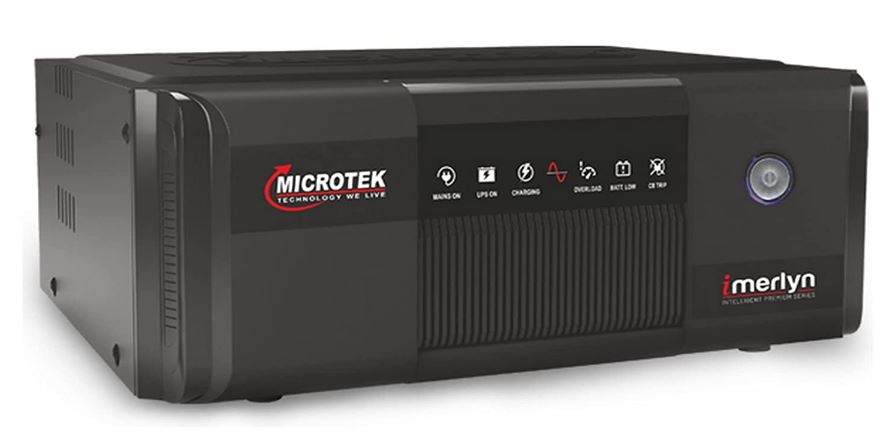 If you experience uninterrupted power often you can use this Microtek iMerlyn Premium Advanced Digital Inverter. This Microtek iMerlyn inverter is designed with Microcontroller based intelligent control technology. The capacity of this inverter is 1100VA/850W operating at a 1250-12V battery.
It performs well during high peak current and is designed to protect from the high voltage surge. The latest updated Technology is used to design the inverter that prevents UPS failure. The inverter comes with different kinds of features such as Charging mode, Load type & Battery type selection switches, re-settable circuit breaker which protects from over-current to the UPS, and Thermal Management protection to avoid fire accidents due to overload. Display indication is there to view the status or faults of the inverter. The voltage range selection switch is there to adjust the input voltage. For the inverter, the range is between 90V-300V, and for the UPS 180V-260V
The Flat tubular 12V battery or long tubular battery is suitable for this iMerlyn inverter. A quick 5-stage battery charging option is there to avoid charging delays. CU Copper wire is used for long-lasting performance. iMerlyn's rating capacity is 700VA and its output power is 588W.
This Microtek iMerlyn inverter is a budget-friendly product and it is strongly recommended for home, office, and shop. It has 2 years of manufacturing warranty and inside the box, there will be an inverter unit, user manual, and warranty card.
Pros:
Noiseless inverter.
It has a display to watch the status.
You will use the inverter with a flat or tubular battery.
It has 2 years of warranty
Cons:
It supports only one battery at a time.
9. Sukam Brainy ECO 1100 Solar Inverter: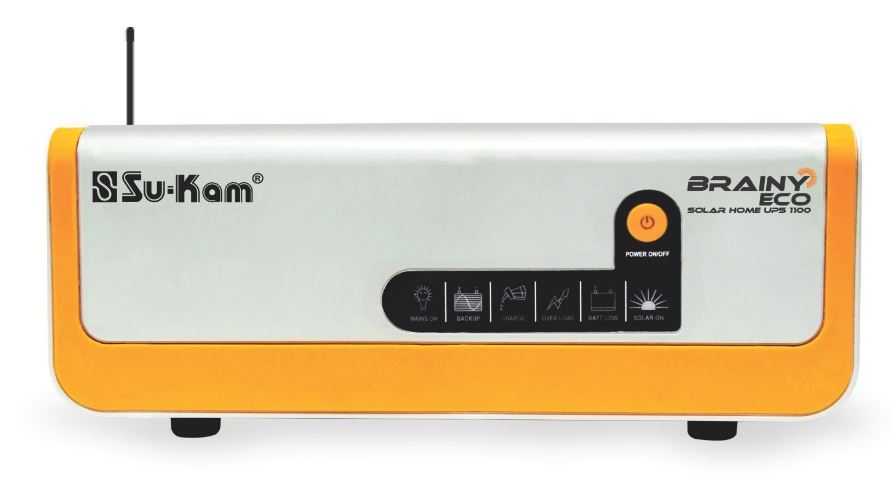 This is an exceptional solar inverter that can function as a normal inverter as well as a solar charger. It can charge its battery through both grid and the solar panels. It can also function as an off-grid solar system.
The in-built charge controller enables it to switch between the power mode and the charge mode with absolute ease. You can only see this feature available in premium solar inverters. According to its users, the power efficiency is 95% which is significantly higher than all of its competitors.
The power output is 220 volts and which is great for a solar inverter. The total load capacity is 850 watts.
If you are looking for a solar inverter that can be used during a constant power cut, then you should purchase this product for sure.
Pros:
Made of strong and durable material.
The load capacity is 850 watts.
220V output power.
95% power efficiency.
Cons:
Less number of service centers.
See also:
Buyers guide:
When it comes to purchasing an inverter for your home, there is some basic stuff you need to know before spending your money. In this buyer's guide, we'll provide some of the essential things you have to consider before buying an inverter. As we've said earlier in the intro section, keeping your needs in mind will aid you in choosing the right model that serves all of your power needs.
Having said that, let's explain to you the common questions people have when they want to purchase an inverter.
1. How does an inverter work?
Basically, an inverter converts dc current into an ac one. This will be helpful to run all kinds of home appliances in case of a power cut. This also serves as a power backup source for your computer. And even though you experience a power cut at some time, you can continue your work without any interruption whatsoever with the help of an inverter.
To put the working mechanism of an inverter into simpler words, it converts one form of energy to another. Why this is important? Because the energy that is stored in the inverter battery is dc current. This can't be used directly to any electrical home appliance as it is extremely powerful and can damage the appliance.
So, the energy stored in the inverter battery will be converted to an ac current and then the same will be distributed to your electrical home appliances. This is how an inverter works.
2. What are the things you need to know when purchasing an inverter for your home?
When you decide to get an inverter to your home, you need to understand that not every inverter will provide backup power to your entire home appliances. It entirely depends on the size of the battery and the total output voltage of the inverter.
These two factors are very important when selecting an inverter for your home. If you get these two right, you can be sure that the model you are going to choose will be a perfect one.
If you need power backup for only lights and fans, a medium-capacity inverter will do well. On the other hand, if you want to have a power backup for your large home appliances, then you surely need to have a premium inverter that takes care of all the electrical things in your home. If you need to have a power backup for all your electrical devices, make sure that the chosen model is equipped with a large battery. The larger the battery, the longer duration of power you get.
3. What are the safety measures you need to take into account when operating an inverter?
There are some really important safety measures you need to be aware of when operating an inverter.
The inverter should be placed either horizontally or vertically on a flat surface.
You should never operate the inverter with wet hands as the water is a good conductor of electricity.
Make sure you keep the inverter in a dry and cool place.
When the inverter is in use, make sure to ventilate it properly.
Cleaning and maintaining the inverter is a key factor in increasing its lifespan.
Don't keep the inverter near a battery compartment.
4.  What are the types of inverters available in the market?
There are generally three types of inverters currently available in the market. They are,
Sine wave inverters,
Modified sine wave inverters,
And square wave inverters.
1. Sine wave inverters:
A rotating ac machinery generates the entire power of a sine wave inverter unit. These days, most electrical appliances are designed to be operated by sine wave inverters. Before you select this inverter model, you should know that it is more expensive than all the other types of inverters.
So, if you are in a tight budget, this particular one isn't for you. But if you want to run heavy appliances during a power cut, then you should definitely go for sine wave inverters.
2. Modified sine wave inverters:
The waveform is more like a square in a modified sine wave inverter. It works well with most electrical appliances in a home. But, don't expect it to work with large electrical appliances as the wattage capacity is just above average. Compared with the sine wave inverters, the modified sine waves are not that expensive.
3. Square wave inverters:
Unfortunately, the square wave inverters are a lot less efficient than all the others. But they are cheaper and if you are on a tight budget, then you should surely buy the square wave inverters. This type of inverter can run small electrical appliances such as fans and lights.
Additional things you need to consider if you decide to purchase an inverter for your home:
By now, you have a clear idea of what you need to look for if you want an inverter for your home or to your office. Now, we'll have a closer view at some of the additional stuff you need to think through if you decide to buy an inverter.
Battery:
The amount of electricity consumption largely determines the kind of battery you need to choose that accompanies with the inverter. If the power demands are high, the battery won't last for a long time.
Having said that, there are two types of inverter batteries currently available. They are lead-acid and tubular batteries.
The tubular battery is costlier but they are more efficient and durable. In our opinion, the tubular ones are the best and we highly recommend you to get an inverter that has a tubular battery.
Compared to the lead acid battery which has a lifespan of 4 to 6 years, the tubular ones can last for 8 to 10 years. Also, lead acid batteries need constant maintenance and they tend to release harmful gases when charging and discharging.
No such thing is required for tubular-type batteries. It works much like a regular battery and the only thing you need to do is to provide an electric charge. That's it.
Warranty of an inverter:
Warranty is a key aspect of purchasing an inverter. These days, most manufacturers provide a minimum warranty of two years. This puts you in a safer place. If for any reason a repair occurs, you can service it free of cost, or in real worst case, you can even get a replacement.
Make sure you read the warranty policy carefully to get an idea of whether the company provides a full warranty or only on some of the parts of an inverter.
Cost:
A quality inverter comes under the premium price category. The benefits are endless when you purchase high-priced equipment. But, there is one key thing that you should always keep in mind.
That is, it all boils down to what you need from an inverter. Do you want it to cover your entire home? Or do you want to run only certain home appliances? Do you want to run large appliances? Do you want to use the inverter for your office space?
Consider these questions very carefully and seriously, and make a list of your needs. Keep it with you when you go to purchase the inverter.
Conclusion:
We've provided all the essential things you have to know when you want to purchase the best inverter for your home. Choosing quality equipment is a real challenge. There are a variety of options which is overwhelming.
That's why we've prepared this guide. Use this as a resource post in selecting the right inverter for your regular use.
Have any suggestions or want to add your thoughts about this guide? Share them in the comments section below.

Hari Vignesh is a freelance content writer and works for Trustedshop.in for more than 5 years. He has a vast knowledge of testing and reviewing products.