If you are looking for a high-efficiency, highly powerful air purifier for your home, then you are not going to be disappointed with this PHILIPS High-Efficiency Air Purifier AC2887. You don't have to be in any doubt that it is one of the best air purifiers from Philips.
Usually, Philips air purifiers come with a pre-filter that filters out pet dander, dead cells, and particles larger than 5-10 microns. And an activated Carbon Filter that captures VOC, odor, cigarette smoke, and gases, this air purifier is no exception. It comes with both a pre-filter and an activated carbon filter.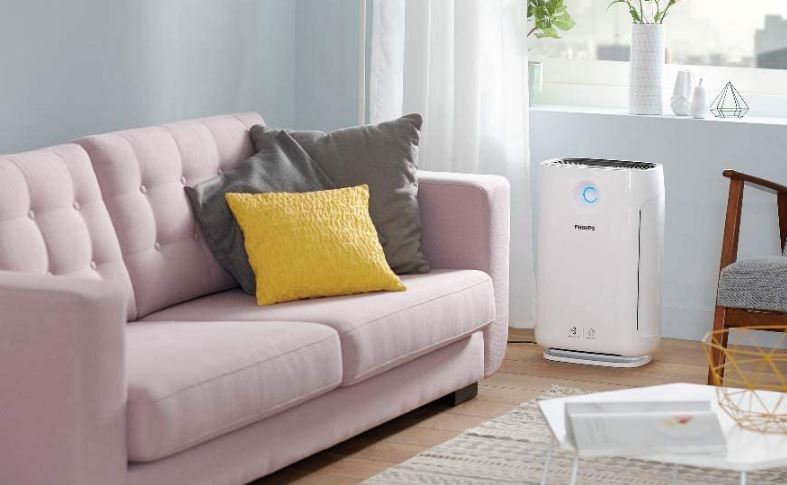 This air purifier also consists of a high-quality HEPA filter that captures 99.97 percent of impurities and germs of size less than 0.3 microns. It is equipped with an auto-switch on feature which enables it to turn on automatically after a power cut.
This is great news for everybody as you don't have to do anything when the power comes back after a power cut.
The digital display shows the indoor air quality of your room at all times and indicates the PM level of your room as well. It is the best air purifier to use for medium to large-sized rooms.
Even if you live in a high-traffic city or an industrial area, this air purifier is going to work magnificently well. You can also turn on the dedicated allergen and virus mode to clean your air from all such unwanted stuff and within a few minutes, you can feel pure, cool, and clear air entering your lungs.
We recommend you to change both the HEPA filter and the activated carbon filter once every 12 months in order to maintain the lifespan of the air purifier as well as to breathe fresh and clean indoor air at all times. Make sure to factor in the costs for the filters before purchasing and changing them.
All in all, if you are looking for a high-quality and high-efficiency air purifier for your home that performs exceedingly well, then your search ends here.